Flying High: 13-3 Vikings looking to close out regular season on winning streak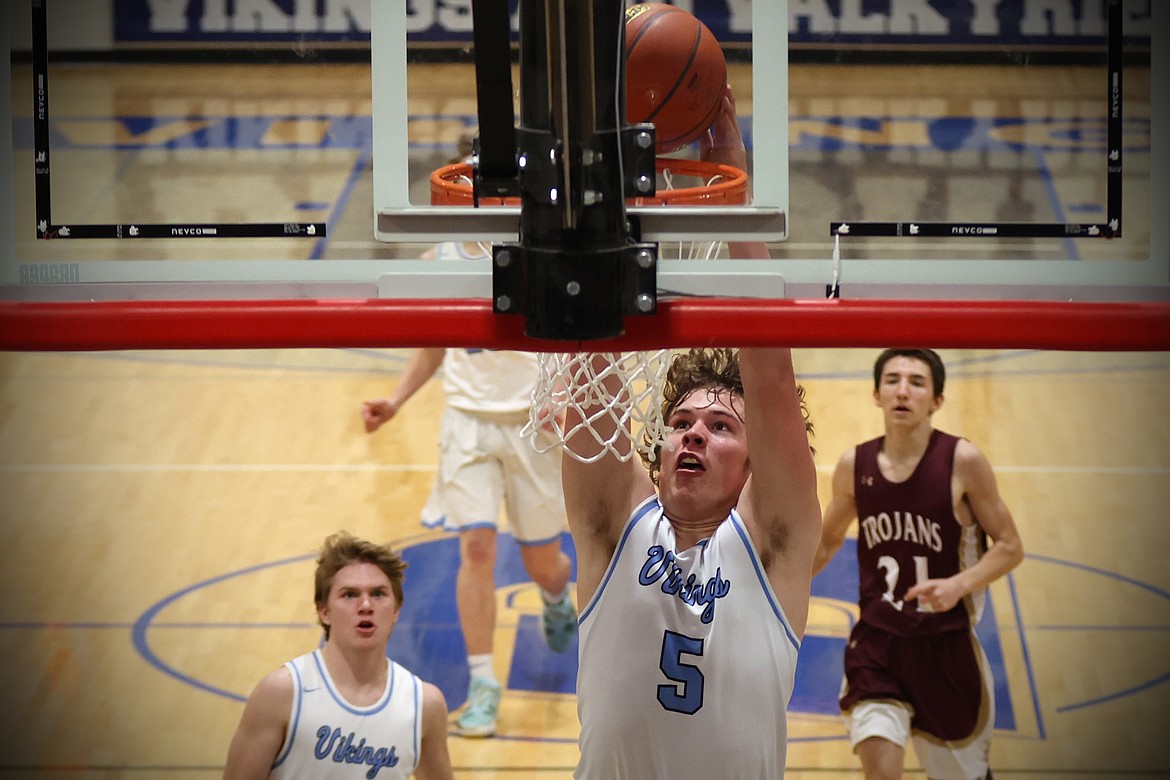 Eli Thorness throws down a two-handed dunk against Troy. (Jeremy Weber/Bigfork Eagle)
by
JEREMY WEBER
For the Eagle
|
February 14, 2023 2:55 PM
The Vikings bounced back from the loss to Loyola with two convincing wins last week as they took down Plains and Troy.
The Vikings put 52 points on the board in the first half in Plains Jan. 31 as Bigfork blew past the Horsemen 75-19.
Bigfork dominated every aspect of the game in the win, shooting 50% from the field while out-rebounding the Horsemen 35-20, recording 19 assists and 18 steals.
The Vikings turned 20 offensive rebounds into 30 second-chance points and got 25 points from their bench.
Led by Nick Walker's 15 points and eight rebounds, the Vikings jumped out to a 27-3 lead after one quarter and led 52-8 at the half.
Landon Byerman, Eli Thorness and Bryce Gilliard each scored 10 for the Vikings in the win, with Byerman adding six rebounds, four steals and three assists. Thorness added four boards and three assists.
Wyatt Johnson chipped in with nine points and five rebounds, Jack Jensen scored nine, had five steals and four assists and Isak Epperly had five points, seven assists, four rebounds and three steals.
Dylan Porrovecchio scored three points in the win and Quinn Herring and Levi Peterson each scored two points.
Walker put in nine of his 11 shots against Troy Thursday and added 11 rebounds as the Vikings blew out the Trojans 78-12.
Epperly and Gilliard each put in a trio of three pointers, scoring 15 and 13 respectively, while Thorness was also in double figures with 11 points.
The Vikes jumped out to a 26-6 lead after one quarter and led 46-8 at the half before holding the Trojans to just four points in the second half.
Bigfork shot 50% from the field in the win, including 8-17 from three, collected 19 steals and dominated the glass to out-rebound Troy 34-10.
Epperly added six assists and two blocks to go along with his 15 points while Gilliard six rebounds and three steals.
Peterson finished with seven points in the win while Johnson added five, Jensen scored four, Byerman had three points and Porrovecchio scored two.
The Vikes were at home against Polson after press time Tuesday and will finish out the regular season at Thompson Falls Thursday.
---