Valkyries unbeaten heading into tournament season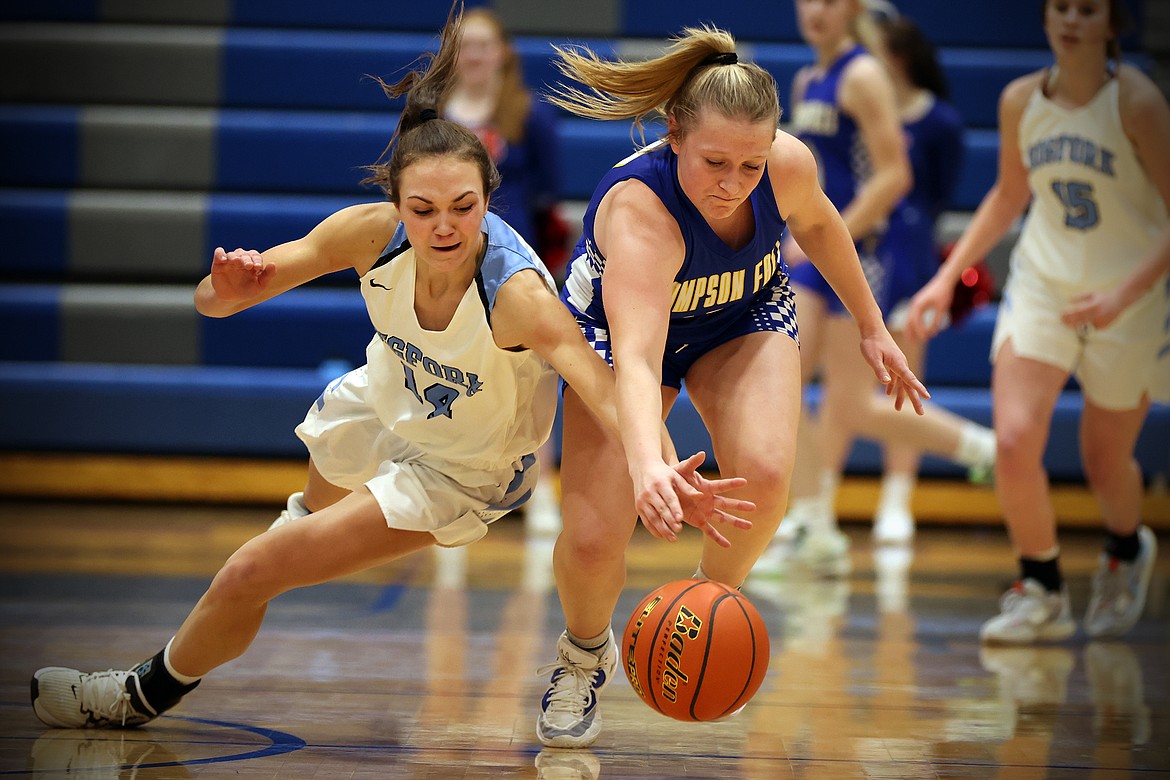 Paeten Gunlock steals the ball from Thompson Falls guard Chesney Lowe during the first quarter of the Valkyries' 72-41 victory over the Lady Hawks Thursday, Feb. 9. (Jeremy Weber/Bigfork Eagle)
by
JEREMY WEBER
For the Eagle
|
February 15, 2023 10:05 AM
The Valkyries wrapped up a perfect regular season last week with wins over Polson and Thompson Falls and will enter this weekend's District 7B Tournament 18-0.
The Gunlock sisters led four Valkyries scoring in double figures at Polson Feb. 7 as Braeden finished with 18 points, 13 rebounds and five steals while Paeten poured in 17 points, eight assists and six steals in a 69-22 Bigfork victory.
Madi Chappuis put in a pair of threes and finished with 12 points while Scout Nadeau finished with 10.
The Valkyries had no trouble with the Northwest A foe, jumping out to a 19-7 lead after one quarter against the Lady Pirates and led 41-13 at halftime.
Callie Gembala contributed five points and six rebounds in the win, Ava Davey had five points, four assists and three steals, and Ellie Jordt scored two points.
Bigfork finished with 20 steals and collected 19 assists on 25 made baskets in the win.
Braeden Gunlock scored 17 of her game-high 28 points in the first half Thursday and finished with 11 offensive rebounds as the Valkyries closed out the regular season with a 72-41 victory over Thompson Falls.
Davey added nine points before halftime as Bigfork led 36-12 at the break.
Paeten Gunlock scored all 12 of her points in the second half and finished with nine assists and three steals as Bigfork added to its lead en route to the win.
Davey finished with 13 points and added six steals for the Valkyries while Nadeau had six points, four steals and four rebounds, Keni Wade knocked down a three and finished with five points, Chappuis finished with four points, three steals and pulled down seven rebounds and Gembala and Jordt both scored two.
The Valkyries will open play at the District Tournament in Eureka at 5:15 p.m. Friday as they take on the winner between Eureka and Plains.
The championship game will be Saturday at 7 p.m.
---