Vikings football players selected for All-Star Game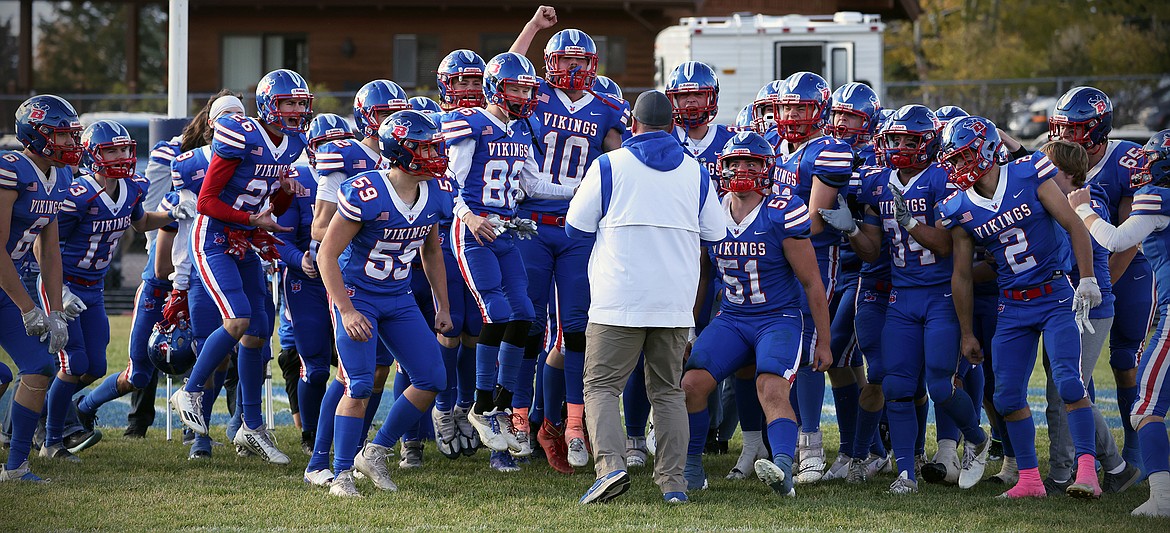 The Vikings celebrate after their playoff win over Manhattan last season. (Jeremy Weber/Bigfork Eagle)
by
JEREMY WEBER
For the Eagle
|
February 15, 2023 9:55 AM
Five members of the Vikings football team will be representing Bigfork and Western B in the Class B All-Star Game with two more Vikings waiting in the wings.
Joseph Farrier, Jackson Nelson, Manny Baldi, Bryce Gilliard and Ethan Rodriguez were selected to the team while Nick Walker and Isak Epperly were chosen as alternates.
Farrier, a running back and linebacker selection, rushed for 925 yards and seven touchdowns for the Vikings last season while also picking up 197 receiving yards and three touchdown catches.
On defense, Farrier recorded 23 tackles and three interceptions.
Nelson ran for 329 yards and five scores while recording 37.5 tackles.
Tight end and linebacker Gilliard had 289 receiving yards last season and three touchdowns while also recording 42 tackles and four interceptions on defense.
Rodriguez and Baldi were offensive and defensive line selections as Rodriguez had 36.5 tackles this season and Baldi recorded 54, including 4.5 sacks.
An all-purpose threat, Walker had 306 rushing yards and a touchdown along with 24 catches for 314 yards and three touchdowns on offense for the Vikings last season along with 24 tackles and 5.5 sacks.
Epperly had 397 receiving yards and seven touchdowns at wide receiver for the Vikings last season along with 18 tackles and a pair of interceptions.
The Montana Class B All-Star football game is set for June 11 in Lockwood with kickoff at 11 a.m.
---