Top-ranked Valkyries use fast-faced style to improve to 8-0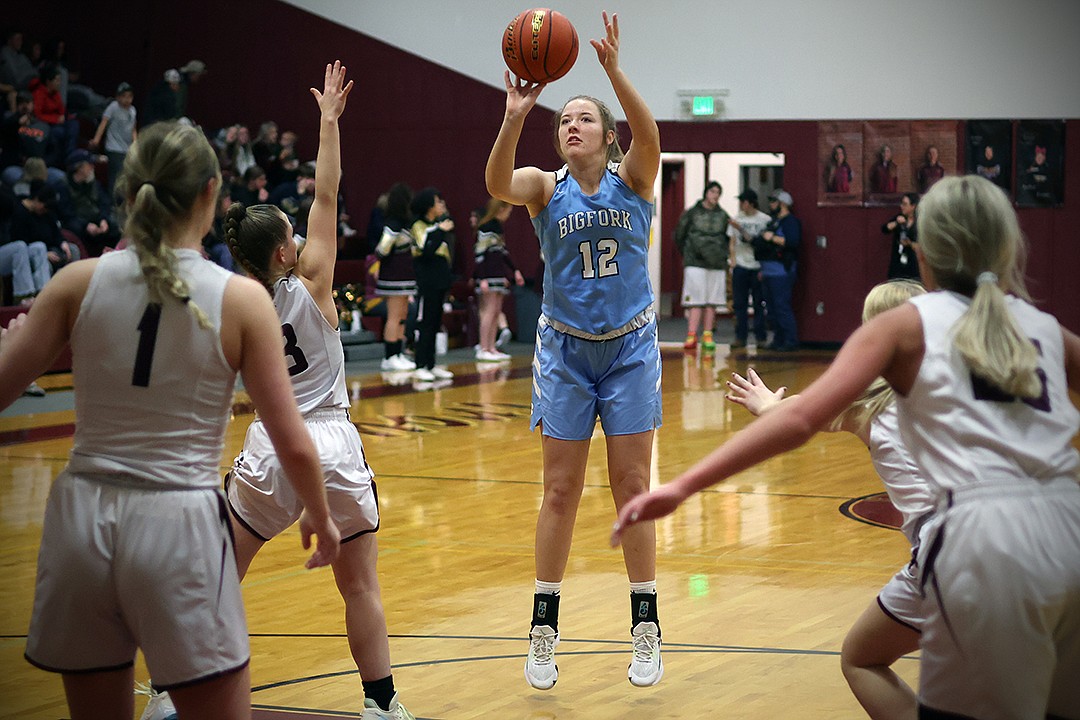 Haley Schara pulls up for a jumper in the Valkyries 92-10 win at Troy. (Jeremy Weber/Bigfork Eagle)
by
JEREMY WEBER
For the Eagle
|
January 12, 2023 10:45 AM
Like a race car firing on all cylinders, the Valkyries left their opponents scrambling to catch up last week as they blew past the Lady Trojans in Troy 92-10 Thursday before locking down the Lady Wardens in Deer Lodge 72-12 Saturday to remain undefeated at 8-0 this season.
Bradeden Gunlock had 15 of her game-high 25 points in the second quarter at Troy on Thursday as the Valkyries jumped out to a 26-4 first-quarter lead before building a 58-4 lead at the break.
The Bigfork half-court defense dominated throughout the contest and the Valkyries finished with 27 steals while committing only five turnovers themselves.
Braeden Gunlock added seven rebounds, seven steals and four assists to go with her 25 points while Paeten Gunlock put in 15 points, seven assists and four steals.
Ava Davey contributed 12 points and six steals. Scout Nadeau had nine points and six steals while Maddison Chappuis scored 12. Callie Gembala had nine points, while Anika Ranson and Afton Lambrech each scored three. Ellie Jordt came ready with two and Haley Schara and Keni Wade each scored one point.
It was much the same story in Deer Lodge Saturday as the Valkyries jumped out to a 25-6 first-quarter lead before building a 53-8 advantage at the half.
Braeden and Paeten Gunlock combined for 19 of Bigfork's points in the opening quarter as Paeten scored all of her game-high 19 points in the first half.
Braeden Gunlock had 14 at the half and finished the contest with 18 points while Nadeau was also in double figures with 10 points.
Chappuis chipped in with seven points while Gembala had six, Davey scored five points, Jordt had four and Wade added three points.
The Valkyries will be on the road again Thursday as they take on the Lady Blue Hawks in Thompson Falls before traveling to Florence Saturday.
The next home game for the Valkyries will be Tuesday as they play host to Eureka to begin the second round of district play.
The Valkyries had no trouble with the Lady Lions the first time around as they defeated them 87-14 in Eureka on Dec. 13.
---