Bigfork Fire looks toward a new year after a busy 2022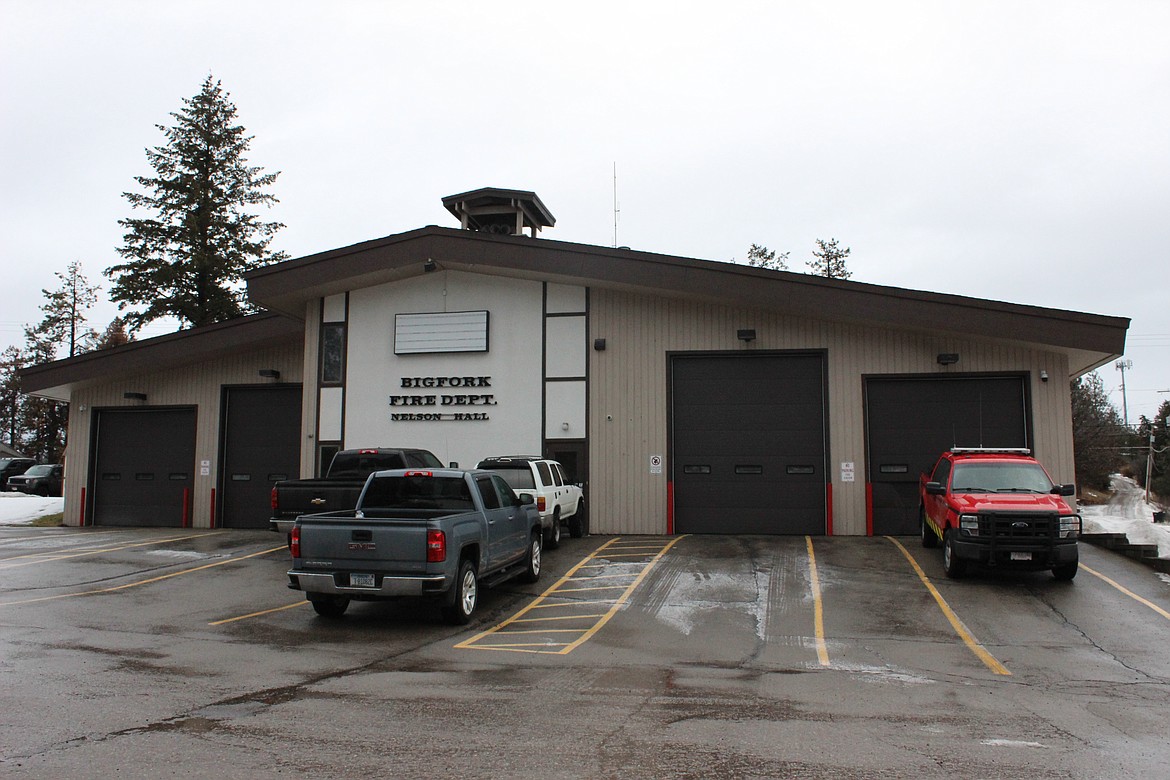 Bigfork Fire Department on Jan. 17, 2023. (Taylor Inman/Bigfork Eagle)
by
TAYLOR INMAN
Bigfork Eagle
|
January 18, 2023 12:00 AM
In 2023, Bigfork Fire will continue making upgrades at their current facility while looking towards how to fund a new building on their property near Chapman Hill Rd. off of MT 35.
Chief Jeremy Patton said the fire department was able to make several upgrades to accommodate additional personnel staying/living in the station last year. For the station that provides EMS services and fire protection to Bigfork and beyond, the work never stops.
Patton said the station will hopefully take possession of a 4x4 fire engine in the first half of this year. A 4x4 fire engine is used to drive over rough terrain, and the vehicle will be a valuable asset for wildland urban interface for the Bigfork area and mutual aid responses.
Training is also a priority for the station in 2023, Bigfork Fire is currently conducting an in-house Firefighter 1 academy. The training will provide the opportunity for many firefighters to test this spring with the Montana State University Fire Services Training School and receive a Pro-Board certification.
Bigfork Fire was awarded a grant for a backup power generator that is also set to be installed sometime this year. They also plan to purchase new SCBA's, or self contained breathing apparatuses for firefighters, to replace current packs that are no longer in production and are no longer supported.
Patton said the future location of their new station off of MT 35 near Chapman Hill Rd. is awaiting funding for construction. He said their Board of Trustees hired ThinkOne Architecture to design a building and site plan in order to get an estimated cost of the project. Currently, there is not a lot of funding set aside for the future station.
The fire department purchased the 8.5-acre parcel of land in 2020. In an interview with the Bigfork Eagle at that time, former Bigfork Fire Chief Mark Thiry said the existing station is roughly 50 years old and was never intended to house staff, as it does currently, with two rooms for overnight crew members.
Patton said once the cost of the building is determined by ThinkOne Architecture, trustees will decide on what step to take next.
Bigfork Fire is a combination department with mostly paid staff and some volunteers. Patton said they currently have 11 volunteers, 2 resident firefighters, 11 full-time staff and about 10 part-time employees. All paid employees are required to be cross-trained in both fire and EMS. The department is staffed at an ALS Paramedic level with three responders and up to two residents in the building 24 hours a day.
The department has seen a steady increase in calls on an annual basis, with around 1,250 calls for service in 2022. That's 115 more calls when compared to 2021, which blew past 2020's 965 calls.
"This is most likely because the population has increased and more people are staying in the Valley through the winter," Patton said.
Patton said one issue they are hoping to address in the coming year is maintaining staffing levels during fire season. Many part-time employees leave to go on fire assignments, in and out of state, during the summer months when the demand for service is the highest— making it hard to fill the schedule and to allow full-time employees to take vacation or sick time. He said this results in additional overtime being paid.
"Between tourism and multiple residence homeowners returning to Bigfork for the summer months, we receive a higher demand for service during the summer months of fire season than during the winter months," Patton said.
To combat this, he said they will be creating two to three permanent part-time positions that will be regularly scheduled throughout the year.
To find out more about Bigfork Fire, check out their website www.bigforkfd.com.
---