Sheriff says staffing shortages are getting better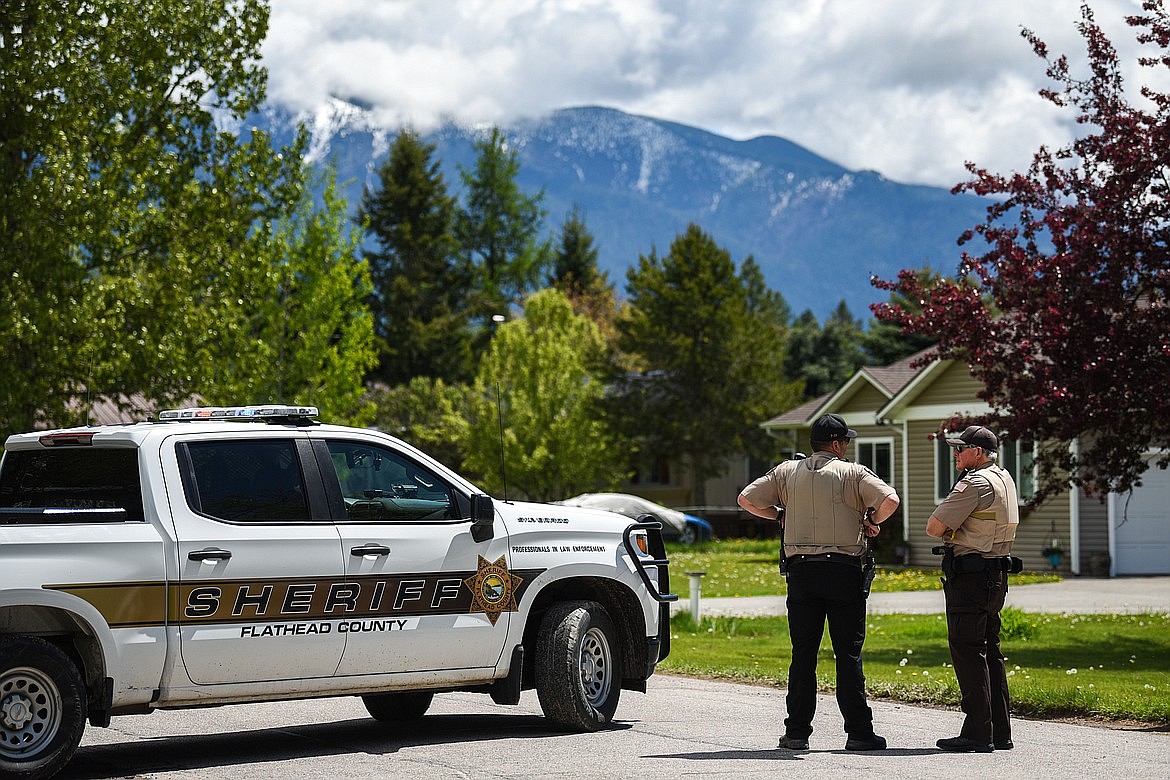 Law enforcement officers at the scene of a standoff in Columbia Falls on Wednesday, May 26, 2021. (Casey Kreider/Daily Inter Lake)
by
JEREMY WEBER
For the Eagle
|
January 18, 2023 12:00 AM
The staffing shortage in Flathead County's law enforcement divisions stretches well beyond dispatchers at the Flathead Emergency Communication Center as Sheriff Brian Heino says he has been struggling to fill the ranks among patrol officers and at the Flathead County Detention Center.
An ongoing problem since the onset of the Covid pandemic in 2020, Heino says the Sheriff's Office is finally approaching full staff among its patrol officers with 59 out of 66 positions filled, up from a low of 51 last year
Among the reasons Heino listed for his hiring troubles were high stress levels, jobs available with better pay, a national media push against law enforcement and availability of affordable housing in the area.
"Attracting people to work in this area is very tough," Heino said. "Housing here is very expensive, so we are having to target our search on people already living here, which severely limits the number of applicants we get. People seem to be moving here for a way of life, not seeking employment."
During the shortage, the Sheriff and his deputies were forced into a reactive role, dashing from call to call without the ability to deliver proactive services such as neighborhood patrols.
Another service that suffered greatly was animal control, as those resourced were forced to perform patrol duties.
"There were a lot of times when we were working with four guys working in a 5,200 square mile area," Heino said. "I'm glad those days are behind us now."
In addition to shortages among patrol officers, Heino is also dealing with a depleted number of staff at the Flathead County Detention Center, which is currently at 31 employees, six down from a full staff of 37.
Heino says the shortages at the detention center have led to a number of issues, including the inability to hold individuals picked up on arrest warrants.
"We have had to prioritize who we would bring to the jail," he said. "Some misdemeanors are no longer a priority, like civil warrants and such. We have been focusing on felonies or anything that is violent or a threat to the community. That is one way we are trying to balance the workload."
Despite all of these issues, Heino says things are looking up for his department as staffing levels continue to level out.
"I think we are over the hump when it comes to hiring now," he said. "We are gaining more people than we are losing, which is something we have not seen in a little while."
Reporter Jeremy Weber can be reached at jweber@dailyinterlake.com
---