Valkyries improve to 10-0 with wins at Thompson Falls, Florence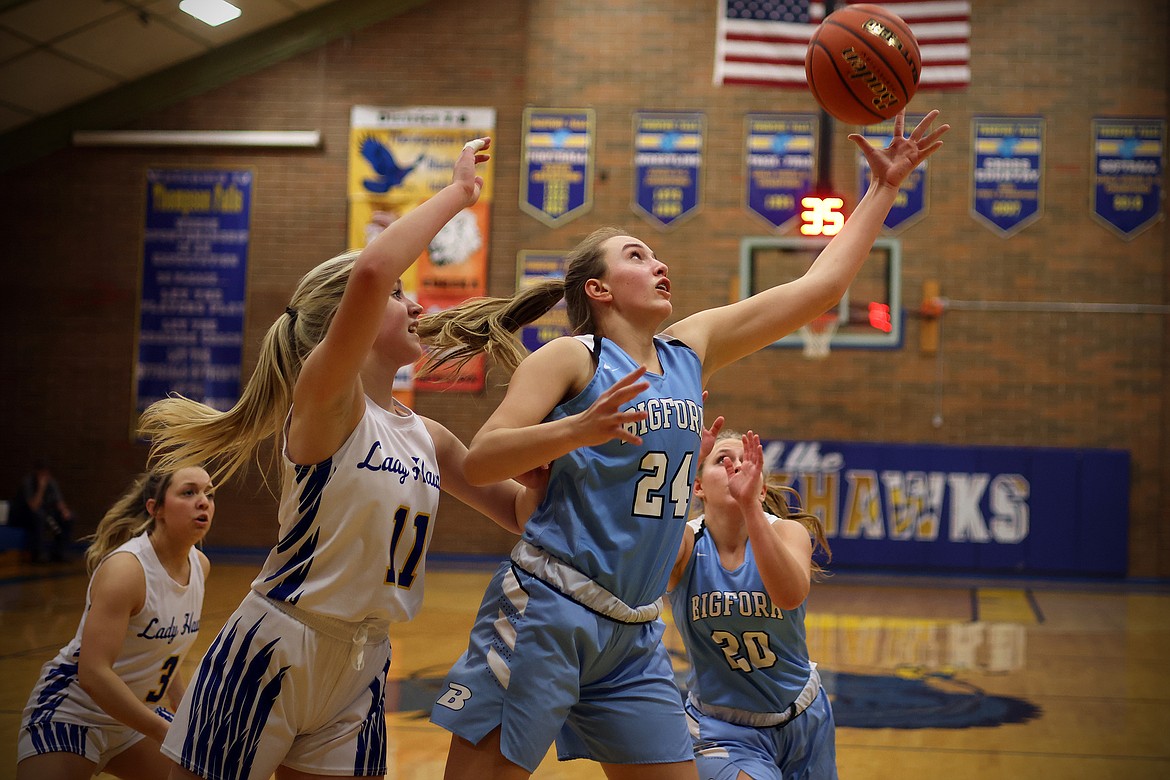 Callie Gembala reaches for a rebound in the Valkyries 64-16 win at Thompson Falls. (Jeremy Weber/Bigfork Eagle)
The Valkyries won their third and fourth consecutive road games of the new year last week as they took down the Bluehawks in Thompson Falls Thursday and the Falcons in Florence Saturday.
The top-ranked Valkyries made a statement in Thompson Falls Thursday against the previously unbeaten Bluehawks, scoring the first 20 points en route to a 64-16 victory.
Braeden Gunlock scored 18 of her game-high 24 points in the first half as Bigfork charged out to a 20-8 lead after one quarter and a 45-12 halftime advantage.
With the mercy rule running clock starting in the early stages of the third quarter, the Valkyries cruised to a 48-point win.
Along with Gunlock's 24 points, Scout Nadeau added nine, Ava Davey scored seven, Paeten Gunlock had six points, Maddison Chappuis put in four points, Anika Ranson and Keni Wade both had three points and Haley Schara, Callie Gembala, Afton Lambrecht and Ellie Jordt scored two points each.
Chappuis scored 11 in the first half and Braeden Gunlock knocked down four triples Saturday as the Valkyries improved to 10-0 win a 69-31 win over the Falcons in Florence.
In typical fashion, the Valkyries used their defense to help build a 24-8 lead after one quarter before extending that lead to 41-16 at the half.
Braeden Gunlock finished with 21 points to lead Bigfork in the win while Chappuis added 15 and Davey scored 10.
Paeten Gunlock scored seven for the Valkyries in the victory, Nadeau and Jordt both had five points and Wade, Gembala and Lambrecht each had two points.
The Valkyries were at home to take on the Lions of Eureka after press time Tuesday and will be on the road Saturday as they take on the Lady Bulldogs in Mission.
The girls will be on the road again Jan. 24 at Columbia Falls.
---