Vikings push winning streak to five games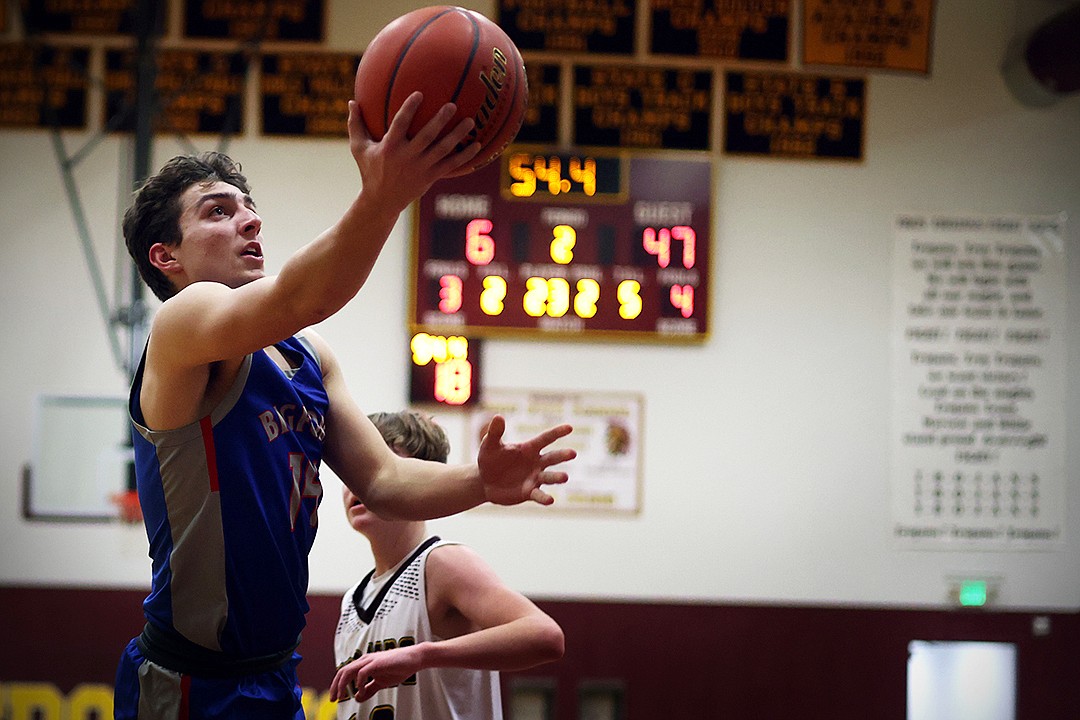 Landon Byerman goes in for a shot against Troy Jan. 5 (Jeremy Weber/Bigfork Eagle)
by
JEREMY WEBER
For the Eagle
|
January 23, 2023 11:55 AM
A pair of wins this week helped the third-ranked Vikings improve to 8-2 as Bigfork picked up victories over Thompson Falls and Florence.
The Vikings made short work of the Bluehawks at home Thursday, forcing 22 turnovers and using 28 points from their bench to down Thompson Falls 61-17.
The stingy Bigfork defense held the Bluehawks to 20% shooting in the contest as the Vikings raced out to a 25-4 lead after eight minutes and a 49-7 advantage at halftime.
With a running clock throughout the second half, the Vikings outscored the Bluehawks 12-10 over the final 16 minutes.
Landon Byerman led the Vikings with 15 points and three rebounds in the win while Isak Epperly added 11 points, five assists, three steals and two rebounds.
Nick Walked added eight points, Eli Thorness contributed seven points and four steals, Wyatt Johnson scored six points, Jack Jensen had five points and four rebounds, Cole Knopik and Tristen Herd both scored four and Bryce Gilliard had one point.
After a close first quarter in Florence Saturday, the Vikings outscored the Falcons 53-25 over the final three quarters to pull away for a 68-35 victory.
Up 15-10 after eight minutes, the Vikings outscored Florence 20-10 in the second quarter to build a 35-20 halftime lead before adding to the margin in the second half.
Bigfork recorded 18 steals and forced 25 turnovers in the win as Epperly led the way with 17 points and seven rebounds while Knopik added 14 points, five rebounds, three assists and three steals.
Walker chipped in with 12 points, six rebound and five steals while Johnson scored eight, Byerman had six points, Thorness scored five, Jensen had four points and Gilliard scored two.
The Vikings were on the road at Eureka after press time Tuesday and will play at Mission Saturday.
---