Valkyries open second half of district play with pair of wins, now 12-0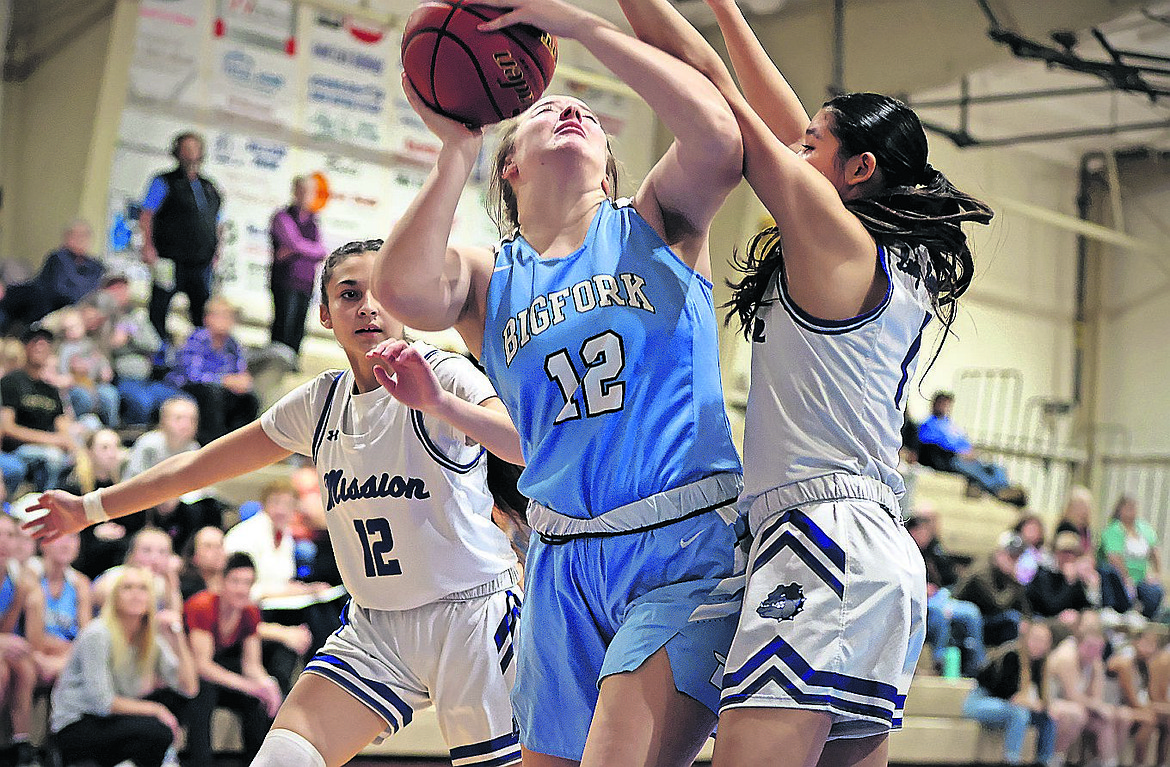 Haley Schara battles under the basket for the Valkyries against the Lady Bulldogs at Mission Saturday. (Jeremy Weber/Bigfork Eagle)
|
January 25, 2023 10:55 AM
The top-ranked Valkyries continued to pile up victories last week as they began the second round of district play with wins over Eureka and Mission.
It was all Valkyries at home Jan. 17 as Bigfork blew past Eureka 74-18.
Braeden Gunlock led a balanced Bigfork scoring attack with 14 points while Paeten Gunlock added 13 points and five assists. Ava Davey also scored 13 and eight steals and four assists while Maddie Chappius scored 12 points, Scout Nadeau had eight, Callie Gembala scored six, Keni Wade had four points and Ellie Jordt and Haley Schara both scored two.
The Valkyries recorded 19 assists on 24 made baskets at Mission Saturday as Bigfork cruised to a 68-31 victory.
Braeden Gunlock put in five triples in the first half and alone outscored Mission by two over the first two quarters as she had 19 of her game-high 27 points at the break.
Braeden also added nine rebounds and five steals.
Paeten Gunlock sank a pair of threes herself and narrowly missed a triple-double in the win, finishing with 16 points, nine steals and eight assists.
Chappuis put in a three in the opening quarter and finished with eight points and four rebounds while Davey had seven points, four steals and four rebounds.
Gembala and Jordt both scored three and Nadeau and Afton Lambrecht each scored two.
The Valkyries were on the road at Columbia Falls after press time Tuesday.
---