Vikings rise to No. 2 after wins at Eureka, Mission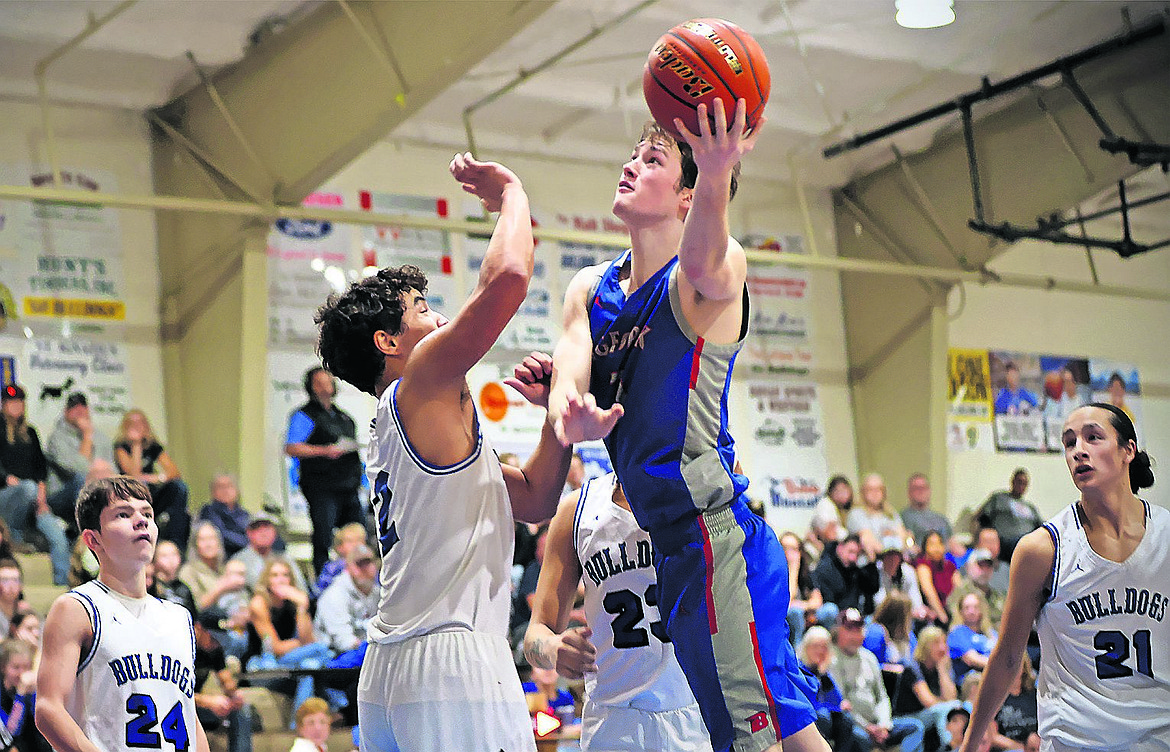 Isak Epperly flies in for two of his team-high 17 points against the Bulldogs at Mission Saturday. (Jeremy Weber/Bigfork Eagle)
|
January 25, 2023 10:50 AM
The Vikings inched closer to the top spot in the Class B rankings last week, moving up to No. 2 after picking up road wins at Eureka and Mission.
The Vikings used a strong fourth-quarter push to get past the Lions in Eureka Jan. 17 as Bigfork picked up a 50-32 victory despite being down two starters.
Bigfork forced 28 Eureka turnovers in the win, including recording 20 steals, as Cole Knopik led the way with 14 points.
The Vikings led 15-5 after one quarter of play, but the teams fought to a draw over the next two quarters as Bigfork maintained a 10-point lead at 32-22 heading into the fourth quarter.
Bigfork pulled away in the final eight minutes, outscored the Lions 18-10 to win by 18.
Along with Knopik's 14 points, Wyatt Johnson added 11 points and four steals. Bryce Gilliard had nine points and four rebounds, Landon Byerman added six points, five boards and three steals, Nick Walker had six points, four rebounds and four steals and Jack Jensen had a strong all-around game with four four points, six assists, four rebounds and four steals.
The Vikings dominated the boards and got 27 points from their bench Saturday as Bigfork downed the Bulldogs 63-30 in Mission to improve to 10-2.
Bigfork led by just six at 18-12 after one quarter but outscored Mission 45-18 over the final 24 minutes to pull away.
Bigfork's defense clamped down on Mission's shooters throughout the contest, holding the Bulldogs to just 24% shooting from the field and a dismal 1-21 from three-point range.
Isak Epperly knocked down a pair of threes in the contest and led Bigfork with 17 points, seven rebounds, three assists and three steals while Walker finished with 10 points, 14 rebounds and two assists.
Byerman added nine points and four rebounds, Gilliard scored eight and pulled down seven boards, Eli Thorness had six points, Knopik scored five and Johnson and Jensen each scored four.
The Vikings were at home Tuesday for a non-conference matchup against Class A Columbia Falls and will host No. 1 Loyola Saturday at 6:30 p.m.
---