Bigfork High says goodbye to Class of 2023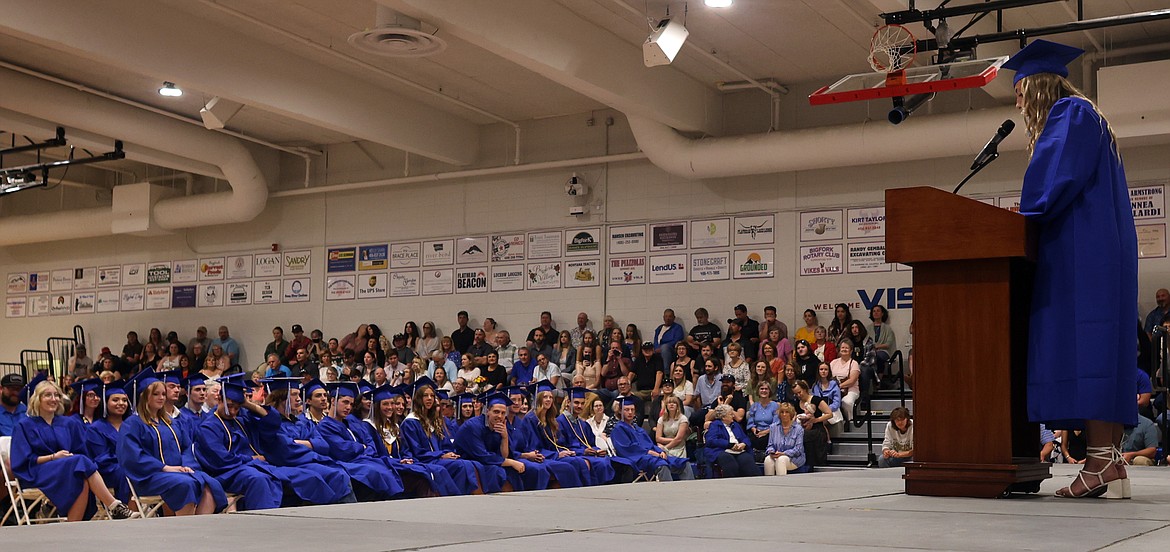 Bigfork High School Class of 2023 Valedictorian Emma Pouwer address her fellow graduates Saturday. (Jeremy Weber/Bigfork Eagle)
by
JEREMY WEBER
For the Eagle
|
June 8, 2023 1:00 PM
Bigfork High School senior class stepped onto campus as students for the last time Saturday as the school hosted this year's Commencement Exercises for the Class of 2023.
The high school gymnasium was filled to capacity as Bigfork's 73 graduating seniors took to the stage to receive their diplomas, welcomed by High School Principal Mark Hansen.
In total, the 73 seniors received more than 100 academic and athletic scholarships to continue their education at the next level, totaling more than $780,000.
The crowd heard from Valedictorian Emma Pouwer, who made the move from Spring, Texas to Bigfork before her sophomore year but was made to quickly feel welcome in her new home.
"Bigfork is special in my opinion because of the nature found among many of the students. They are kind and reach out to the newcomers to create a stronger community in the student body," she said in her address.
Salutatorian Bryce Gilliard and Class President Scout Nadeau spoke of the challenges overcome by the Class of 2023, including facing the uncertainty of Covid-19 as well as losing a classmate with the death of Dane Hansen in 2021.
"Junior year we knew was going to be hard academically, but we didn't know we would lose one of us," Nadeau said. "We were reminded that checking in on your friends and keeping those around you close is one of the most important things in life."
Gilliard lightened the mood by pondering how he and his classmates reached graduation day.
"As I look across my fellow classmates I cannot help but wonder how we made it here," he said. "Literally, I am trying to figure out if we are actually smart or if we came up with a fool proof system that none of the teachers have been able to figure out yet."
Commencement speaker Rick Baird put forward the lesson of being prepared as the graduated contemplate their futures and also took time to honor all Bigfork High School graduates, past and present.
Baird's address told the students to be proud of their accomplishement, but to continue to strive your future success, a sentiment echoed earlier by Nadeau in her speech.
"Although high school is important, don't get caught up thinking this is a huge giant part of your life that's over," she said. "We have so much to look forward to.
---