Bigfork's Tess Megill earns back-to-back state rodeo titles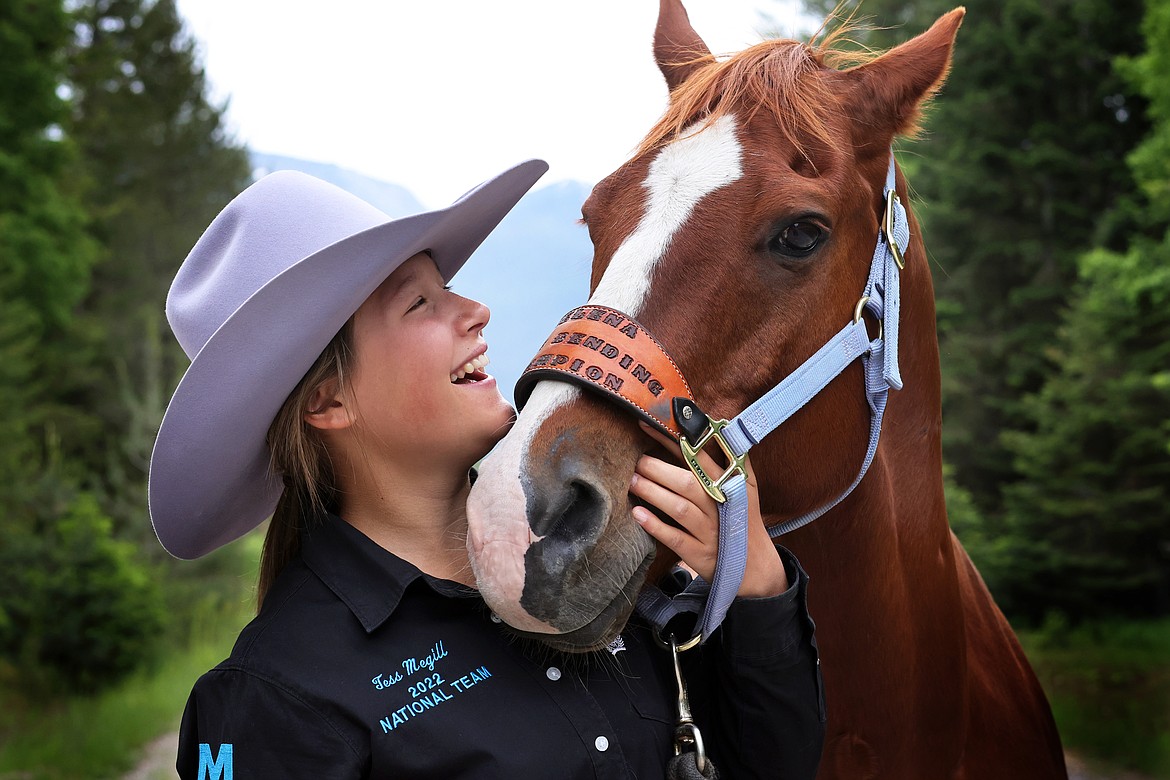 by
JEREMY WEBER
For the Eagle
|
June 8, 2023 1:05 PM
Not all of Bigfork's state titles came from the Vikes and Vals this season.
Bigfork eighth grader Tess Megill, who is homeschooled through Heritage Academy in Evergreen, just finished winning the junior pole bending event of the Montana High School Rodeo Association, defending the title she won in the same event in 2022.
"My first run at state this year was not the best, but I got lucky when the main girl I was up against had a bad run as well," Megill said. "I was able to wind up with more points and got the win, again. It was great."
A horse lover and barrel racer from an early age, Megill took up the sport of rodeo and has made a quick rise to the top ranks in several events as she has taken on breakaway roping, goat tying, pole bending and ribbon roping.
"I really liked barrel racing, but my mom wanted to make sure I really liked rodeo before she invested in everything it takes to compete. I got sick of just doing barrels, so I joined the rodeo association and started learning how to do the rest," Megill said.
After purchasing a new horse and joining a rodeo association, Megill began training with the help of Ronan's Martha McClure and quickly took to the long drives and overnight stays that accompany rodeo in Montana.
With eight rodeo weekends in the spring and nine more in the fall, Megill and her mom estimate they spent at least 70 nights sleeping in their horse trailer last year.
The pair are not exactly roughing it, with a living quarters in their horse trailer that would rivial any camper or RV, but the extended road time does take its toll.
"It was a little hard to find time to do my schoolwork this spring, but I made it through somehow," Megill, who earned a 4.0 GPA in the fall semester and a 3.9 in the spring, said.
When she is not riding in rodeos, Megill is riding her horses or practicing for the next one.
"I have done poles so much that I am dialed in and it doesn't take much practice at all, but I practice the rest much more frequently. I rope the dummy for breakaway pretty often and practice my get-offs for goat tying pretty regularly," she said. "I just have a lot of fun doing poles and I have an awesome horse that seems to have fun doing poles as well. That way, we are not fighting each other. We are out there as a team."
With her victories at the state level, Megill made the National High School Rodeo Association's National Team as a seventh and eighth grader and says she now has friends all over the state. Her mom, Natalie Megill, jokes that when Tess get her driver's license, she won't have to worry if her vehicle breaks down anywhere in Montana, she will have a friend to help within 30 minutes no matter where she is.
While Tess will make the transisition to the high school level next year, she says that she is ready to make the move and is looking forward to it.
"I'm nervous about making the switch to the high school level, but I am also excited to be getting out of the junior high level," she said. "Maybe the high school kids will be a little more mature," she said with a laugh.
As for the sport that she loves, Tess says there is no one thing that makes Rodeo so great, but she loves it and is going to keep doing it as long as she can.
"I don't know if I really have one favorite thing about rodeo, it's all pretty great. It's hard to narrow it down to just one favorite thing because I love it all so much," she said. "It is like an emotional roller coaster, though. There are really high highs, but there are also really low lows. It's not for everyone, but it's what I want to do."
---