Valkyries to head into state tourney unbeaten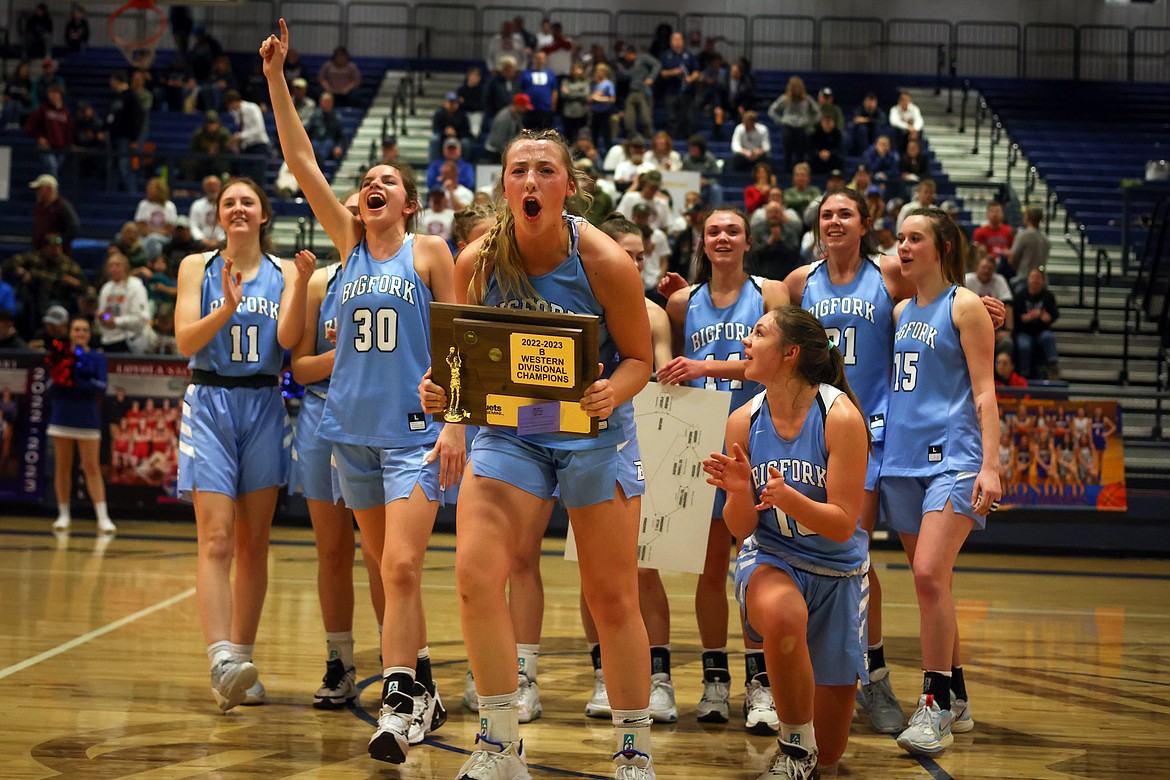 The Valkyries celebrate after defeating Loyola for the Western B Divisional title in Anaconda Saturday. (Jeremy Weber/Bigfork Eagle)
by
JEREMY WEBER
For the Eagle
|
March 6, 2023 10:30 AM
What many saw as the inevitable destiny of this season's Valkyries basketball squad came to fruition Saturday as the Vals earned a spot in the state tournament with a win over Loyola in the Western B Divisional Championship.
The Valks survived their first true test of the season against a feisty Breakers squad as Bigfork battled foul trouble in the first half and led by only eight at the break.
Undaunted, the Valkyries took control in the second half, outscoring Loyola 38-13 over the final 16 minutes to pull away for a convincing 63-36 win to earn their second consecutive Western B title.
"This was the kind of test this team needed before heading into state," head coach Cortnee Gunlock said after the win.
Braeden Gunlock led the way for the Valkyries with 21 points, five rebounds, four assists, three steals and two blocks in the win while Paeten Gunlock finished with 14 points and five assists and Maddi Chappuis added 11 points, six steals and five boards.
The Gunlock sisters combined to knock down eight threes in the win.
Scout Nadeau had nine points and seven rebounds and Ava Davey and Ellie Jordt both scored four as the Valkyries improved to 23-0 this season.
The Gunlock sisters combined to go 8 for 11 from three-point territory against Mission in the semifinals Friday as the Valkyries downed the Lady Bulldogs 69-25.
Bigfork outscored Mission 52-18 in the first half as Paeten Gunlock finished with 26 points (including six threes) and added five steals while Braeden Gunlock had 14 points, six rebounds, four steals and four assists.
Nadeau had 10 points and five rebounds, Chappuis poured in eight points, seven rebounds and six steals, Davey scored six, Callie Gembala had four points and Keni Wade had one.
It was all Valkyries on the first day of the tournament Thursday as Bigfork cruised past Deer Lodge 69-13 in the opening round.
Bigfork led 43-5 at the half en route to the win.
Braeden Gunlock scored 23 and added six rebounds, four assists and four steals in the win while Davey had 12 points, three rebounds, three assists and two steals.
Paeten Gunlock finished with nine points and added six steals and six assists, Nadeau scored eight to go with four rebounds and three steals, Chappuis, Gembala and Wade each scored four, Anika Ranson had three points and Jordt had two.
The Vals will open the state tournament in Great Falls Thursday as they take on Baker at noon.
---