Bigfork homicide case continued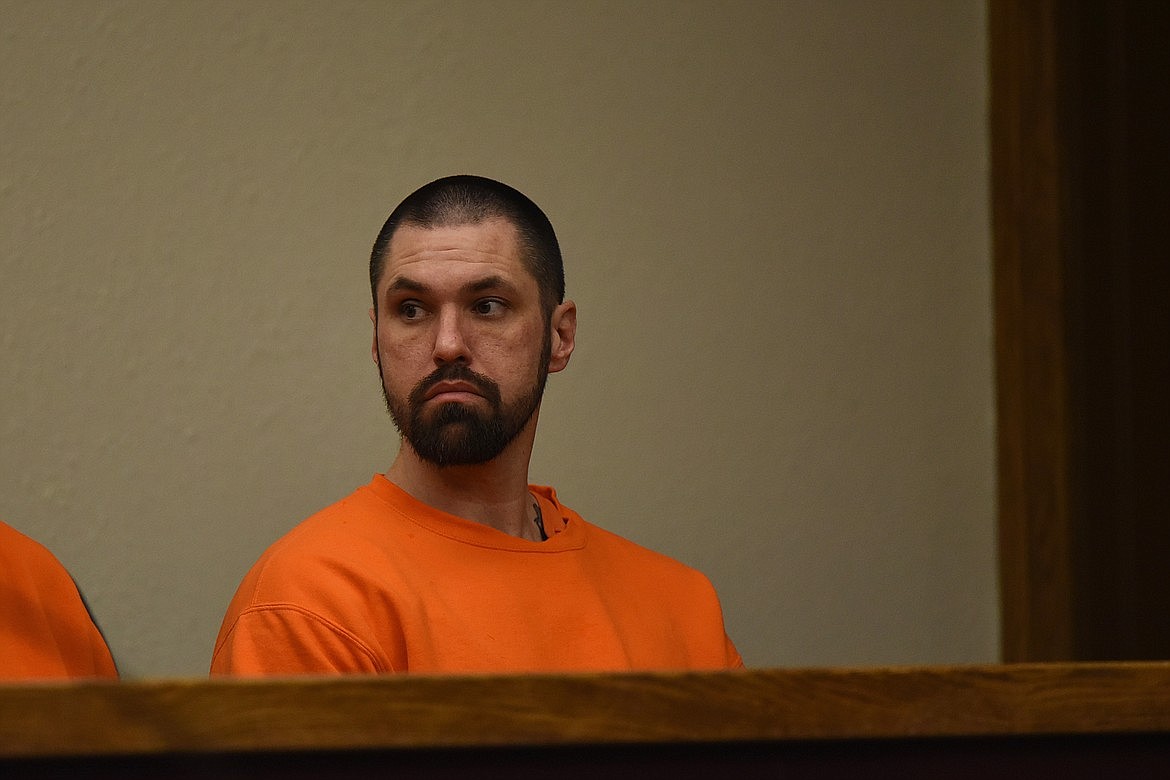 Derrick James Jackson awaits his arraignment on multiple felony counts, including two deliberate homicide charges, in Flathead County District Court on Feb. 22, 2023. (Derrick Perkins/Daily Inter Lake)
by
DERRICK PERKINS
Hagadone News Network
|
March 9, 2023 12:00 AM
The trial of accused Bigfork murderer Derrick James Jackson was ordered pushed back this week.
Jackson, 37, faces two counts of deliberate homicide in Flathead County District Court as well as charges of tampering with or fabricating evidence and criminal possession of dangerous drugs. He pleaded not guilty to the felony charges at his Feb. 16 arraignment before Judge Amy Eddy.
Jackson is charged with the murders of two Bigfork residents last fall.
At the time of his arraignment, Eddy set an omnibus hearing for Feb. 22, a pretrial conference for March 8 and a status conference for April 3. In a nod to the compact timeline, Eddy asked Jackson's defense team if they wanted to seek a continuance; they declined.
Instead, prosecutors ultimately sought a reprieve. In paperwork filed in district court on March 7, Deputy County Attorney Amy Kenison lobbied Eddy for a delay.
"The state is waiting for discovery from the crime lab, which the state and defendant have an interest in obtaining the results," she wrote. "As such, the interests of justice would be served by a continuance of this matter."
Kenison's motion went unopposed by Jackson's defense team.
Eddy approved the request Wednesday. She alerted both prosecutors and the defense team to her decision to move the case to her next jury term during the time set aside for Jackson's previously scheduled March 8 pretrial conference.
Jackson remains behind bars in the county jail with bail set at $1.5 million. Deputies with the Flathead County Sheriff's Office took him into custody Oct. 28 after responding to reports of an armed man breaking into homes and vehicles on Estaban Lane in Bigfork, according to court documents. While searching Jackson, deputies uncovered a loaded magazine for a .40 caliber Smith and Wesson pistol, a bag containing a crystalline substance and a prescription bottle made out to Stanley Allen Grotberg, court documents said.
While Jackson headed to the county jail, deputies tried to check in with Grotberg. Seeing signs of violence — dried blood and a bloody mop — inside Grotberg's home, authorities entered and found the 65-year-old dead alongside 62-year-old Tricia Lynn Demotts, according to court documents. Several .40 caliber casings were found near the victims, court documents said.
Investigators later recovered a loaded Smith and Wesson .40 caliber pistol left in high grass near where deputies found Jackson, according to court documents.
News Editor Derrick Perkins can be reached at 758-4430 or dperkins@dailyinterlake.com.
---