Lakeside man brought up on felony charge for harassing deputy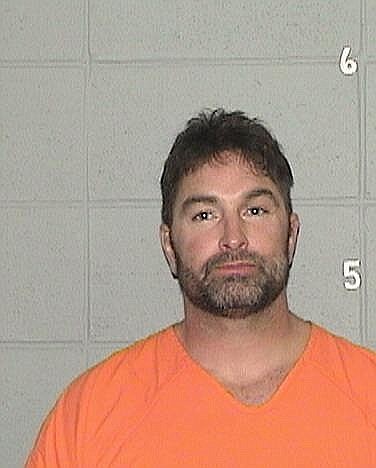 James Scott Mende. (Photo courtesy the Flathead County Sheriff's Office)
by
DERRICK PERKINS
Hagadone News Network
|
March 15, 2023 12:00 AM
Allegedly drunkenly threatening a Flathead County Sheriff's Office deputy outside of a Lakeside saloon last week earned James Scott Mende a pending felony charge.
Mende, 37, faces one count of threats or improper influence in official or political matters in Flathead County District Court following his March 9 arrest. The Lakeside man is being held in the county jail with bail set at $180,000.
Mende's alleged confrontation with the deputy began after a saloon employee spotted him trying to get into the bar and grill about 10 a.m., an hour before it opened, according to court documents. Mende seemed drunk, the employee told authorities, and began yelling, court documents said.
Worried that Mende would hop back into his blue minivan and drive off, the employee called the Sheriff's Office. When deputies arrived, they found Mende still trying the saloon's front doors, court documents said.
Mende, who appeared unsteady on his feet, according to arriving deputies, sported bloodshot and watery eyes as well as the odor of alcoholic beverages on his breath, court documents said. Deputies reported his speech as allegedly being thick and slurred.
Mende allegedly denied driving to the saloon — though the employee reported seeing him pull in — and gave deputies a fake name, court documents said.
Armed with his identity, authorities contacted Mende's probation officer, who requested a breath sample. Mende allegedly boasted a breath alcohol concentration of .320.
When his probation officer asked deputies to arrest him for a violation, Mende allegedly turned aggressive. He insulted the deputy tasked with transporting him to the detention center and threatened his wife, court documents said. He also repeatedly challenged the deputy to fight, according to court documents.
The litany of insults, threats and challenges continued en route to the county jail, court documents said. Once at the jail, officers allegedly had to restrain him.
Mende already is facing a burglary charge in district court for an unrelated incident in August 2022. Prosecutors alleged in court documents that Mende broke into his ex-girlfriend's home on Aug. 9 and beat her after an argument over dinner earlier in the evening. The victim, who suffered injuries to her head and left eye, told deputies he struck her three times after kicking in her door, according to court documents.
Mende pleaded not guilty to the charge in November and the case was headed toward trial. The day prior to his arrest in Lakeside, Mende appeared before Judge Amy Eddy in district court for a pretrial conference.
Mende is expected to be arraigned before Judge Heidi Ulbricht on the more recent charge on March 23.
Threats or improper influence in official or political matters carries a maximum penalty of 10 years in state prison and a $50,000 fine.
News Editor Derrick Perkins can be reached at 758-4430 or dperkins@dailyinterlake.com.
---