State agriculture director tours Bigfork distillery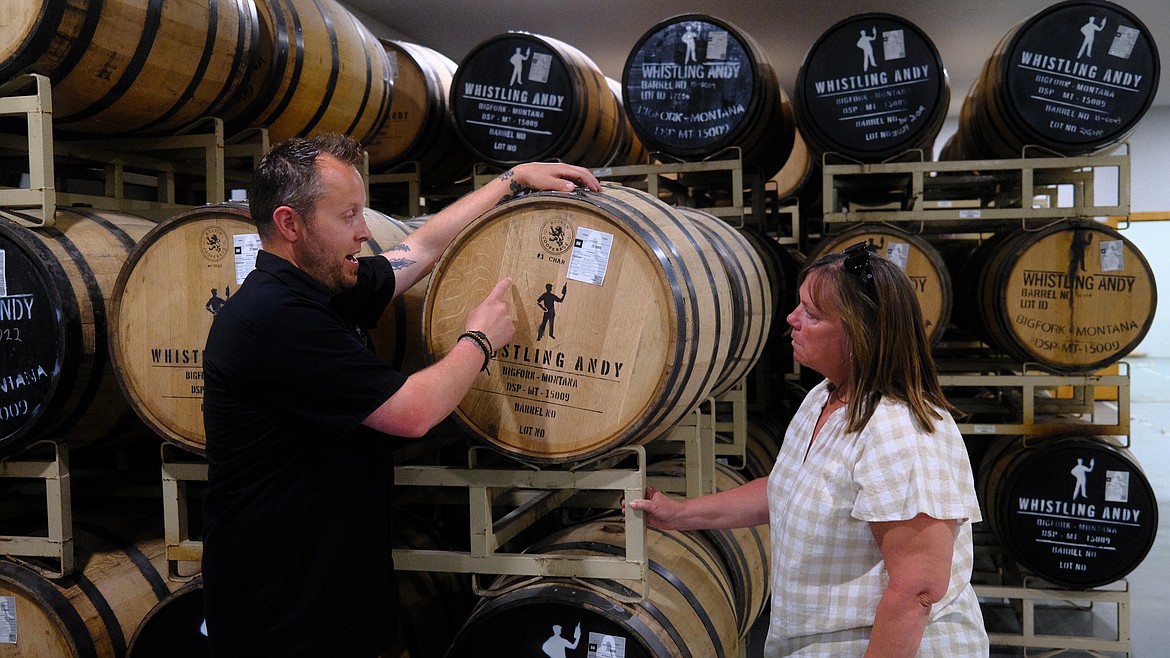 Head Distiller Gabe Spencer talks about barrel-aged whiskey with Montana Department of Agricultural Director Christy Clark at Whistling Andy distillery in Bigfork on May 4, 2023. (Adrian Knowler/Daily Inter Lake)
Department of Agriculture Director Christy Clark toured Whistling Andy Distillery in Bigfork on Thursday, part of a statewide circuit of businesses utilizing Montana-grown agricultural products.
Clark was led around the distiller's new facility and taught about spirit production by Whistling Andy's head distiller Gabe Spencer.
The distillery has been producing spirits, including whiskey, gin, vodka and rum, since 2010, making it the oldest continually operating distillation operation in the state.
Much of the grain used in the business' alcohols is sourced from Montana farms, as are the Flathead cherries used in their Kirschwasser, a German-style cherry brandy. The distillery has also produced locally-sourced huckleberry vodka, and donated all of the profits to the Glacier Park Conservancy.
Clark said she was glad to see Montana-grown grain products processed and sold in-state. Her personal favorites include the distillery's cucumber gin and on-tap huckleberry lemonade.
"Montana is such an export state, any time we can capture that step and build a business around that is great," Clark said.
Whistling Andy Distillery recently moved out of their 7,000-square-foot building into a 25,000-square-foot facility that includes a bar and tasting room with retail space. They began distilling operations in the new building this year.
They are hoping to fill out their production floor with an additional pot still and in-house milling equipment, both of which would help them scale up production. Right now, they go through around 3,300 pounds of grain per week, Spencer said.
Much of the barley, wheat and corn byproducts are reused as cattle feed.
Distillation is a precise operation, and requires at least one distiller on the floor managing the equipment up to 16 hours per day, according to Spencer.
"These businesses contribute to their community and it's a very Montana flavor," Clark said.
---