The Nook embraces wellness and art in Bigfork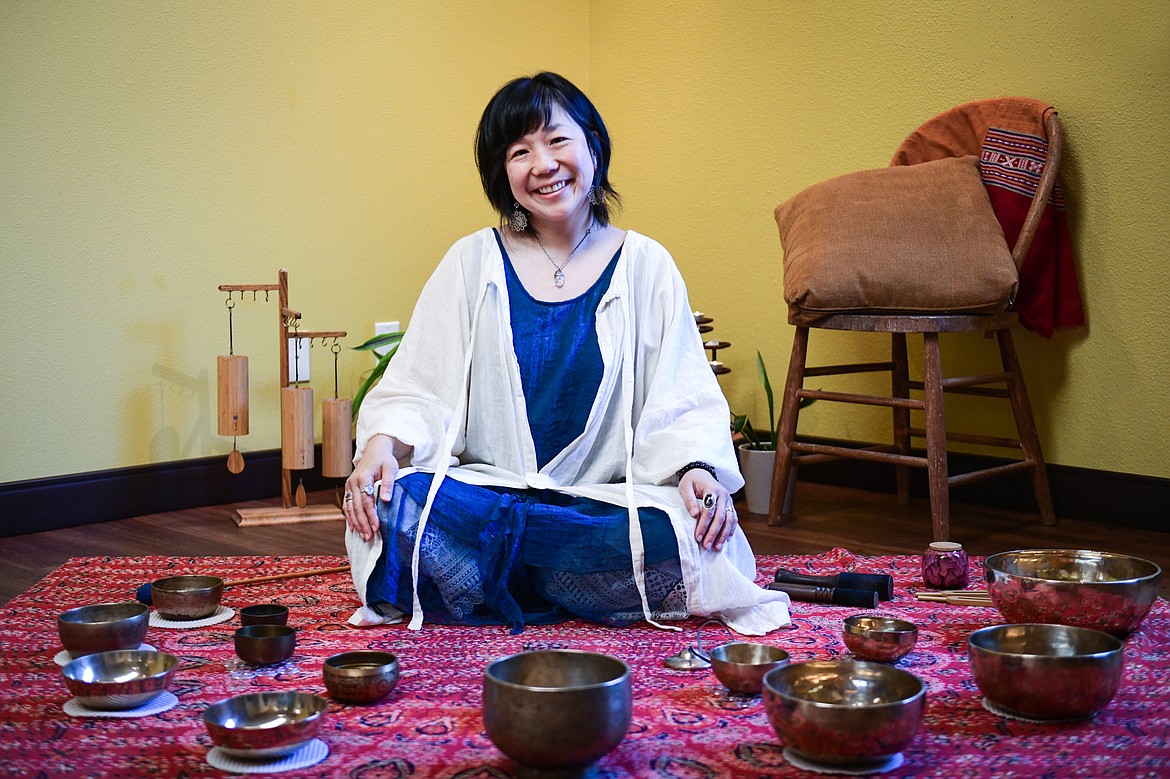 Ai Yuasa-Green, owner of The Nook, inside her space in Bigfork on Wednesday, May 10. (Casey Kreider/Daily Inter Lake)
by
SUMMER ZALESKY
|
May 31, 2023 10:05 AM
A new space has opened in downtown Bigfork to collaborate with artists and wellness practitioners. The Nook at Bigfork Bay encompasses Aiology Works, an acoustic and vibral healing studio and Bluebird and Honeybee, a mercantile offering locally curated artisan gifts and goods.
Jodi Saenz, Kassie Roedel, and Ai Yuasa-Green dreamed up the space after realizing their cohesive visions of wellness and art could impact the community and provide emotional and mental healing.
"I felt a calling that a place was needed for people to come together locally and actually connect in person. Doing crafts with your community and talking with each other is part of that healing and it starts with us," said Yuasa-Green. "We talk a lot about providing a deeper sense of healing."
Despite having their own businesses outside of The Nook, the three women said their common need to create community brought them together.
"Kassie is the director of the Village Market and the owner of Bees, Knees and Knits, Ai has her background in nutrition, and I own Mountain Bluebird Studio in Whitefish," said Saenz. "We are each other's supporters even though we come as individuals. Our interests just aligned perfectly. Ai is the owner of the space, but we work together so it can be unified. We work as a trinity."
The mercantile stocks products including wellness apothecary and kitchen items, household essentials, décor, accessories, and stationery. Lower Valley Lavender, Sulas Apothecary, and Wild Co are just a few of the over 40 local artisans that The Nook supplies.
"This location offers a service for other artists who might not have a platform. We provide a space and a voice for those pieces to reach other people that might not see the piece," said Roedel. "We hand-pick each business and item that we want to include in our shop. There's room for exploration with our artists and we're doing research to see what else is out there. The whole experience of wellness is very key and local is very important to us."
The women explained that The Nook gives them a way to advocate for local artisans and give back to their community by providing a welcoming space. The space blends art, community, stewardship and wellness by highlighting these Montana-made products.
"An artist told us recently that she's so excited about the location. It's a space within her community that gives her more stability," said Roedel. "We are really interested in being the vessel for this."
In addition, the women hope to bring in the artisans to tell their stories and share about their pieces. Roedel explained that the space is a symbolic representation of community stewardship, their heritage, and their environmental efforts.
"All these different cultures are meeting in this beautiful place and we feel so grounded and connected not only to the land, but to each other. [Art] made from the earth is so meaningful to me," said Roedel.
Not only does the brick-and-mortar space allow them to fulfill their dreams of displaying local goods, it also provides the backdrop for art and wellness workshops which are donation based and open to all. Some of their offerings include sound meditation, a craft circle, mindful movement practices, tuning fork sessions, mala bead making, and a potential tincture infusion workshop.
"[The space] really is a gentle form of activism. We are making a statement," said Yuasa-Green.
"We can be gentle and kind and people can come as they are and feel immediately welcomed into our space. It is healing to belong somewhere."
The Nook is located at 470 Electric Ave., Suite 1F in Bigfork and is open Monday through Sunday 11 a.m. to 5 p.m. To find out more about the Nook, visit their website at bluebirdhoneybeemt.com or check out their Instagram @bh.mercantile. To contact them, reach out via phone 406-897-3803 or email bh.mercantilemt@gmail.com.
---