Vikes season comes to a close with 34-21 playoff loss to Broncs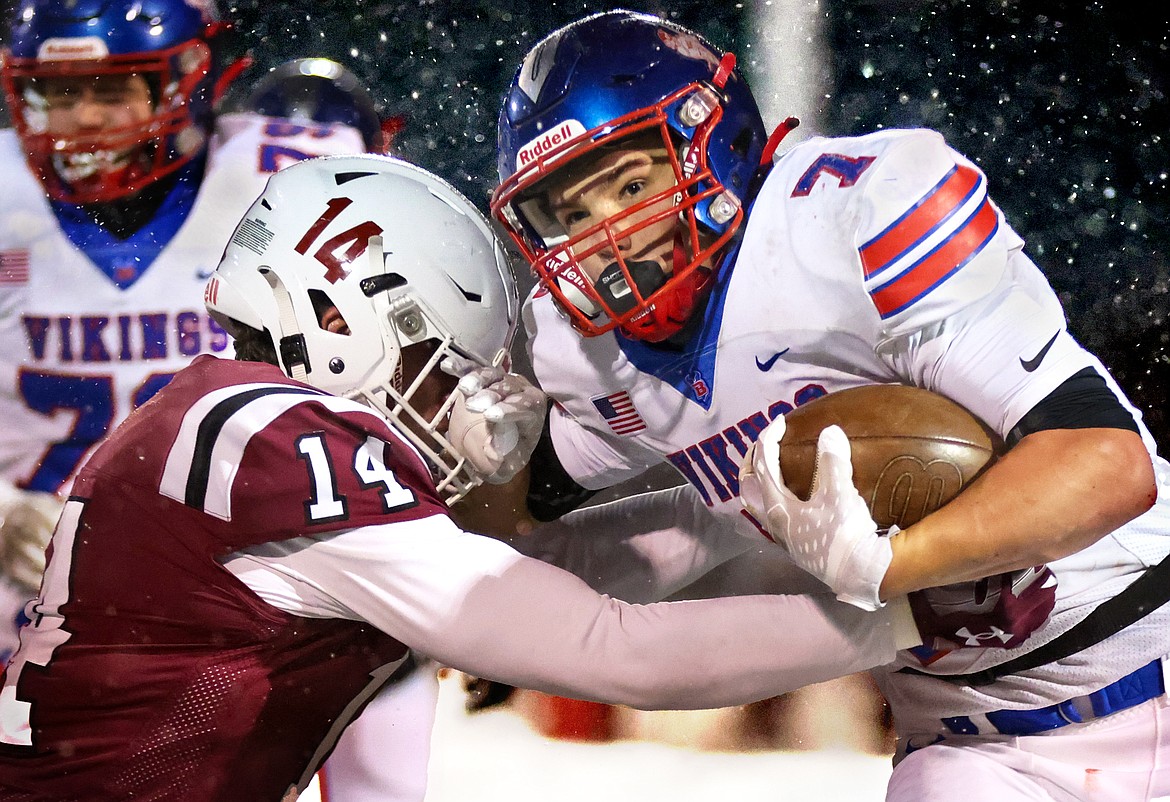 Asher Knopik battles the Bronc's Bryce Bryce Carter during a tough run in the Vikings' playoff matchup in Hamilton Friday. (Jeremy Weber/Bigfork Eagle)
Bigfork's first season in Class A football came to a close on the road Friday as the Vikings fell to Hamilton in the first round of the playoffs, 34-21.
In a pitched battle that saw the Vikings get on the scoreboard first on the oppening possession of the game, the Hamilton offensive line proved to be overwhelming down the stretch as Bigfork struggled to stop the running game of Broncs' quarterback Lucas Lant.
"We were able to run the ball effectively, which was good," head coach Jim Benn said. "We were not perfect, though, and I would still like to have seen us tackle better, but some of that is inexperience."
Lant finished with 248 yards and four touchdowns for Hamilton.
It was Bigfork that got on the scoreboard first, though, as Asher Knopik capped a long Vikings drive with a two yard run for a 7-0 lead.
Hamilton answered with back-to-back scores to go up 14-7, but Bigfork answered with a 6-yard run by Wyatt Johnson to cut the lead to 21-14 at halftime.
The Broncs scored the game's next three touchdowns to go up 34-14 before a 21-yard touchdown trot by Tristen Herd cut the lead to 34-21.
That was as close as Bigfork would get as the Broncs held on for the win in the snow.
Bigfork finished with 257 yards of offense in the loss, led on the ground by Herd's 48 yards.
Johnson finished with 39 rushing yards, Samuel Plummer added 31 and Asher Knopik had 23.
Herd finished the evening 7 of 16 passing for 114 yards.
Knopik led the receiving corps with 50 yards on two catches while Austin Savik caught two passes for 27 yards.
Cole Knopik caught two passes for 19 yards and Plumer had one reception for 18.
Defensive stats were not available.
For the Vikings, the playoff game ended their first season in Class A, a season in which many around the state picked them to finish last in their own conference.
"I think our kids responded to the change really well and I never once heard them complain about the move to Class A," Benn said about his team. "They just want to play, which I think is a testament to the senior class and their competitiveness. Like anything else, it was an adjustment. We didn't have that familiarity with the other teams that we had in Class B, which put us a little behind the eight ball as far as preparation goes."
Overall, Benn said he was quite pleased with his team's performance this season.
"We had a good attitude all year and we were competitive in every game we played, even against some very talented teams," he said. "I just asked them to get better every week and I really feel like they did that."
Looking forward, Benn says he thinks this team will be ready for the challenge next season.
"We have a really good group of kids coming up that were very successful at the JV level this year," he said. "I think the future of the program is bright."
---