Tamarack Time! returns to Bigfork with delectable dishes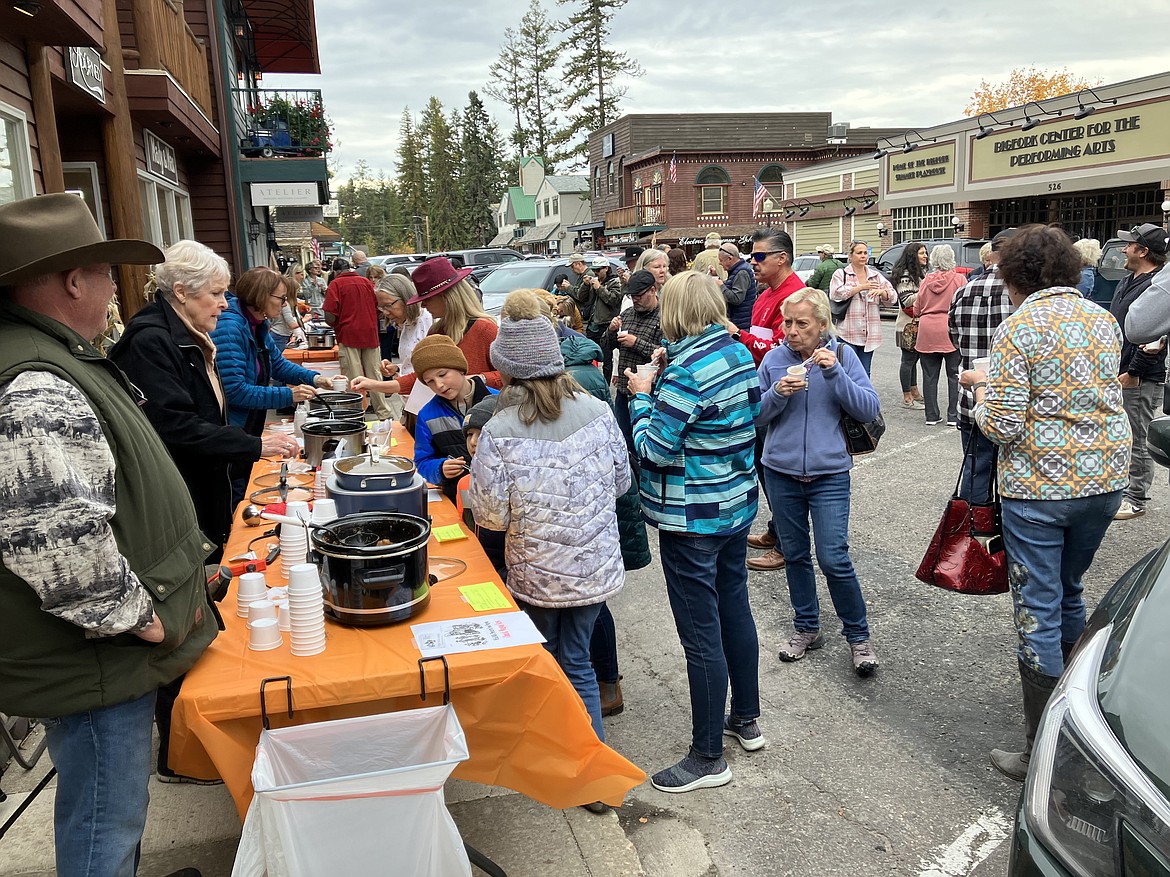 Tamarack Time! made its return to Bigfork last month. (Tom Sward photo)
After a three-year hiatus, Tamarack Time! returned to Bigfork last month with its delectable array of delicious dishes and tasty treats.
In 1988, George Darrow had the notion to celebrate this time of color change and the fall harvest with an event called Tamarack Time! It's really a bite-sized food festival shared by local old timers and newcomers alike.
With a variety of categories ranging from sweet to savory and mild to spicy, the food tables once again returned to downtown Bigfork last week with the help of numerous volunteers and organizer Toot Sward.
"I think people were happy to see that it was back. It is just such a fun, cute little festival," Toot said.
Initially support was enlisted from the Bigfork Chamber of Commerce to get the festival up and running, but shortly thereafter, Tamarack Time! was spun off as its own thing.
As always, this year's proceeds went to maintaining the Swan River Corridor Nature Trail (Wild Mile) in Bigfork.
While attendance and entries were down this year, Sward says many people have already signed up to help next year and the event should quickly grow back to its former glory.
"I had a lot of people signing up wanting to help next year, so I think the problems we had this year are going to fix themselves. I think next year is going to be great," she said. "I am very pleased that we had the crowd that we did get, and it's only going to get better."
This year's event raised more than $1,100.
Tamarack Time! 
2023 Winners
APPETIZERS (2 entries)
  1st –Gloria Laurenz – "Taco Bean Dip" 
  2nd – Nancy O  - "Goat Cheese"
BREAD
  1st- Marie Brancaccio – "Rum Punch Bread"
  2nd- Melissa Triano – "Dragon Cake Bread"
  3rd- Balann McKenzie – "Corn Bread with butter frosting"    
JAMS & JELLY
  1st- Kassie Roedel – "Marmalade w/ Grapefruit"
  2nd- Sarah Young – "Cherry Plum Jelly"
  3rd- Sarah Young – "Asian Cherry Plum"
CASSEROLES
  1st- Dani Steel – "Grannie Framie's Minnesota Tater Tot"
  2nd- Cheryl Talbery – "John Wayne's Favorite"
  3rd- Debra McCormick – "Loaded Baked Potato w Bacon"
CHILI (1 entry)
  1st- Micki Janisse – "Choteau's Chili"
COOKIES/BARS (1 entry)
  1st- Cassie Furda – "Rainbow Cookies"
DESSERT- (2 entries) Chocolate 
  1st- Sarah Young – Chocolate Mousse
  2nd- Neal Brown – Chipotle Bark
ETHNIC
  1st- Ariana Yuzhakova – "Russian Olives Salad"
  2nd- Melissa Triano – "New Mexico Enchiladas"
  3rd- Jennifer Anken – "Jewish Kugel"
PICKLES (Dill) (2 Entries)
  1st- Arin Lever – "Montana's Last Best Dill"
  2nd- Kassie Roedel – "Spicy Dill"
PICKLES (Sweet)
1st- Janine Beaubien – "Sweet & Spicy Bread & Butter" 
2nd- Kassie Roedel – "Pickles Beets"
3rd- Shelley Gonzales – "Pickled Candied Jalapenos"
PIES (Fruit) (2 entries)
  1st- Sherianne Schow – "Gooseberry Cream"
  2nd- Shauna Gibson – "Banana Cream"
PIES (Non-Fruit)
  1st- Susan Franklin – "Pecan Pie"
  2nd- Shauna Gibson – "Perfect Pumpkin"
  3rd- Sherianne Schow – "Clara's Pumpkin"
POTATOES (2 entries)
  1st- Cassie Furda – "Potato Salad"
  2nd-George Gibson – "Cheesy Potatoes"
SOUP
1st – Rebekah King – "White Lasagna"
2nd – Beth Woods – "Tuscany Tomato Bisque"
3rd- Grant Holle – "Ham & Bean"
STEW
1st – Sue Ellison – "Apris Ski Pork"
2nd- Beth Woods – "Chicken Sweet Potato"
3rd – Cheryl Nelson – "Beef Barley"            
---