Vals go 1-2 at divisional volleyball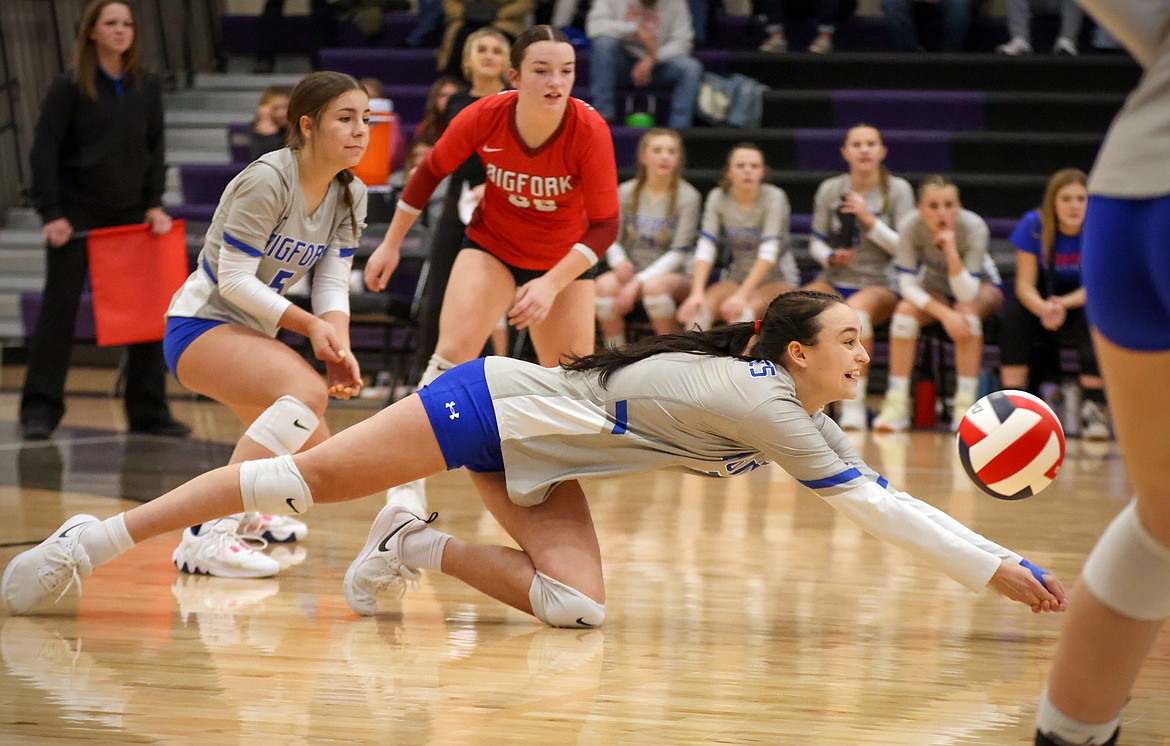 Gracie Saari dives to make a play on a Corvallis serve at the Western A Divisional Volleyball Tournament in Polson Friday. (Jeremy Weber/Bigfork Eagle)
The Valkyries showed they belonged during their first trip to the Western A Divisional Volleyball Tournament in Polson over the weekend, going toe-to-toe with some of the best squads in the state.
The Valkyries found themselves in a tough fight in their opening match of the tourney as they took on the No. 2 team from the Southwest Conference, the Dillon Lady Beavers Thursday.
Bigfork dropped the first two sets 25-14 and 25-19 but showed amazing resilience in the third set to earn a 29-27 victory to keep the match going.
Bigfork could not complete the comeback in the third set, falling 25-19.
Ava Davey led the effort with 10 kills against Dillon while Gracie Saari and Piper Lee each served three aces.
Taylor Howlett recorded 25 of the team's 27 assists in the match while Saari and Sophia Ledingham each had two blocks.
Davey led in digs with 14 while Saari and Howlett each recorded 12, Tessa Troyer had 11 and Cassy Schlicht added 10.
The Vals needed a win in their first match Friday to keep their season alive and they got just that, downing Corvallis in four sets.
The Vals once again got off to a rough start, dropping the first set 25-21, but won the next three 25-10, 25-21, 25-20 to earn the victory.
Saari led the Bigfork attack with nine kills while Natalie Vick and Ledingham added eight each and Troyer served six aces in the win.
Howlett had 31 assists, Ledingham had four blocks and Davey added 13 digs.
Bigfork got off to a hot start in their matchup with Hamilton in their second match Friday, but the Broncs came back to win the match in four sets and end the Valkyries' season, 16-25, 25-13, 25-15, 25-21.
Piper Lee's nine kills led the Val's offense while Davey added nine and Vick had seven.
Davey and Lee each served two aces, Howlett had 24 assists and Ledingham added three blocks.
Davey did her best to keep the Lady Broncs attack at bay with 28 digs while Troyer added 18 and Howlett and Saari added 14 each.
The Vals finish the season with 16 wins and 13 losses.
---