Ruth Pinkerman, 98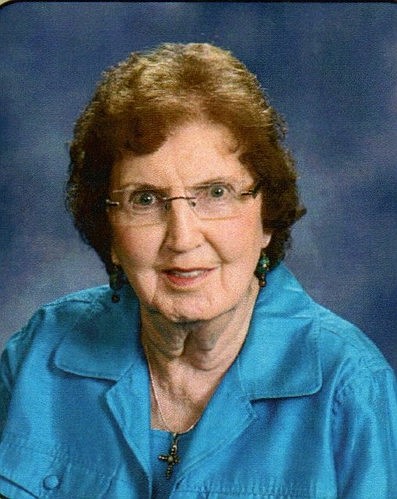 |
November 15, 2023 12:00 AM
Ruth Irene (Lewis) Pinkerman, age 98, passed away October 29, 2023. She was born on July 6, 1925, to Kenneth Arnold Lewis and Mary Escoe (Rumfelt) Lewis in the hospital at Crow Agency, Montana where her older brother Kenny was also born.  They soon moved to Hardin, Montana where her dad worked for the Farmer's Union and the Sugar Beet Factory. Soon she was blessed with three more siblings, Bob, Escoe and Rosemary.
Ruth was baptized in the First Baptist Church of Hardin around 1935. She graduated from Hardin High School in 1943 and attended Billings Business College to study secretarial work.  Upon completing her schooling, she went to work in Bremerton, Washington in the typing pool of the war factory, moved to Spokane, Washington and then ultimately back to Hardin in 1947.  In the meantime, she met and married Hal Giles.  Unfortunately, that marriage soon ended in divorce, however, she was blessed with a son, Kenneth Paul Giles.  Ruth was the office manager for the ASCS Agriculture office in Hardin for many years and enjoyed working with all the local farmers and ranchers. She was involved in many local organizations and was a worthy Matron of the Order of Eastern Star. 
In 1960 she met and married Karl Duane Pinkerman, a newly located schoolteacher and they soon had a daughter, Kari Lei.  They were members of the First American Lutheran Church for many years.  She became school secretary at the Intermediate School and later worked for Douglas Freeman Law Offices.
Ruth and Duane were involved in many clubs and activities throughout their 40 years together in Hardin.  Summers were spent in the Flathead tending their cherry orchard, where they eventually moved to in 1999 and became involved in several local clubs and church activities.  Duane passed in 2006, however Ruth continued to enjoy social activities, playing bridge, exchanging recipes, and just chatting, as long as her health allowed.  Having a good old visit was her favorite thing to do.  If it involved chocolate, it would be all the better.
Ruth is survived by her sister Rosemary, son Kenneth (Mary Ann) and Mary Ann's children Melanie and Mark and their families; daughter Kari Lei, (Mike) and granddaughter Hannah; nieces Debra Joan, Karen, Mary Catherine, Lisa and nephews Mark and Steven and their families.  
She was preceded in death by her husband Duane, sister-in-law Viola, brothers Bob, Kenny and Escoe and nieces, Shari and Merrie.
A spring memorial service is planned.  If desired, donations may be made to the Bighorn County Historical Museum. Messages of condolences may be shared with the family online at www.lakefuneralhomeandcremation.com. 
Arrangements are under the care of The Lake Funeral Home and Crematory.
---