Somers cafe bases menu on connection with herb manufacturer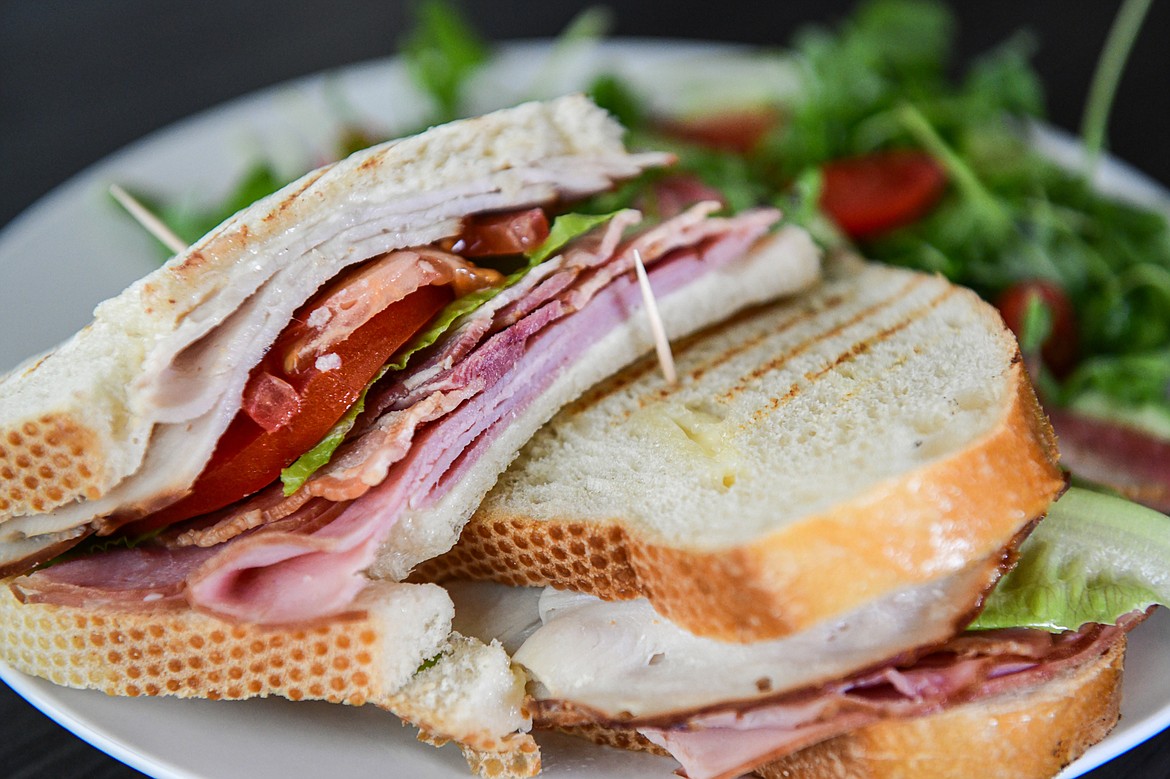 The Somers Club sandwich at Mountain Cafe at Mountain Meadow Herbs in Somers on Wednesday, Nov. 1. (Casey Kreider/Daily Inter Lake)
Casey Kreider
Owing to its connection with a local herb manufacturer the Mountain Cafe in Somers focuses on health-conscious food and drinks.
Mountain Meadow Herbs five years ago expanded its offerings to include the cafe that had previously been separate from the herbal supplement retail space. The owners now look forward to incorporating both even further.  
Although the cafe already offers several supplement boosts, Erica Stevens, manager of Mountain Meadow Cafe, said the plan is to train baristas to know more about the herbal supplements in the retail space. 
"We do offer supplement shots here at the cafe to go," she said. "If someone's on their regular sunshine drops which are vitamin D and zinc and they forget to take it, they can come through and buy a shot from us."
Other supplement add-ons at the cafe include aronia, ashwagandha, ginkgo biloba, Rhodiola root, turmeric root, Eye-Can-C, First Immune Defense, collagen, and MCT oil. 
Mountain Meadow Herbs manufactures liquid herbal supplements for a range of health benefits. The company was founded by Kathy Garber who sought out natural healing in seeking a way to assist with her son's kidney disease.
Stevens said that the merger will make the space a "one-stop shop" and encourage a more holistic experience for cafe customers who can seek out advice from an herbalist depending on their needs. Other additions to the space will include a kids' corner and a made-in-Montana gift shop.
"I don't think that there's any place that is kid-friendly that has a section where moms can sit and do some work and watch their kids play safely, so we'll add a kids' corner with toys," said Stevens. "My next step is to make one of these sections a gift shop where we bring in local products."
Though the cafe is Stevens' first time in management, she has been making coffee for over 20 years and has a background in culinary arts. 
"2010 is when I decided to go to culinary school to learn more about food and nutrition for my kids who were 4, 5, and 7 at the time," said Stevens.
"I put my heart into everything I make and everything I do, even when it comes to the coffee," she continued. "Believe it or not, if you put hot shots in a plastic cup for iced coffee with the flavor first before you put ice in it, there is a difference, and you can taste the plastic. So I've always taken a little pitcher and mixed the shot and the flavor in there and then I pour it over the ice in the plastic cup and I teach [the baristas] to do that. I also teach them to put the shot in right away because the longer they sit, the more bitter of a taste it has."
The cafe focuses on using local products such as bread from Ceres Bakery, drink mixes from 5 Sparrows Brand, and stroopwafels from Caramel Cookie Waffles in Billings. They also try to make as much from scratch as possible. Monthly soups, for example, are made in-house. 
"If I want to bring health consciousness into this cafe, our soup should be made from scratch. It's just so much better for you, it's fresh, and you know what's in there," said Stevens. "I just pulled the carrot ginger soup and now we're doing chicken noodle soup. Next month's soup is beef stew. I've got all my soups planned out through April." 
The cafe's best-selling menu item is the avocado toast which features smashed avocado, lemon juice, sea salt and red pepper flakes on sourdough bread. Following close behind are the Monturkey — a turkey sandwich with spinach, artichoke hearts, Swiss cheese and house lemon-rosemary-garlic mayo. The breakfast burrito with bacon or chorizo, hashbrowns, eggs and cheese with avocado crema is also popular. 
"There's a lot of places that don't really have much breakfast and if they do, it's a lot of pre-made microwaved food. Our stuff is pre-made, but it's still fresh and we roll our burritos daily," said Stevens.
In addition to its coffee and breakfast options, Mountain Meadow Cafe offers made-in-house baked goods such as peanut butter fudge bars, banana bread, and an assortment of cookies. Kailey Milbrandt, the cafe's baker, also owns and operates Piece of Cake Bakery where she makes cakes, cupcakes, cake pops, bagels and scones. 
The Mountain Cafe at Mountain Meadow Herbs is located at 1019 Hard Rock Road in Somers. Hours are Monday through Friday, 7 a.m. to 4 p.m. To find out more, visit mmherbs.com or call 406-303-5157.
---