Bigfork author to launch new literary comedy novel at BACC event Oct. 19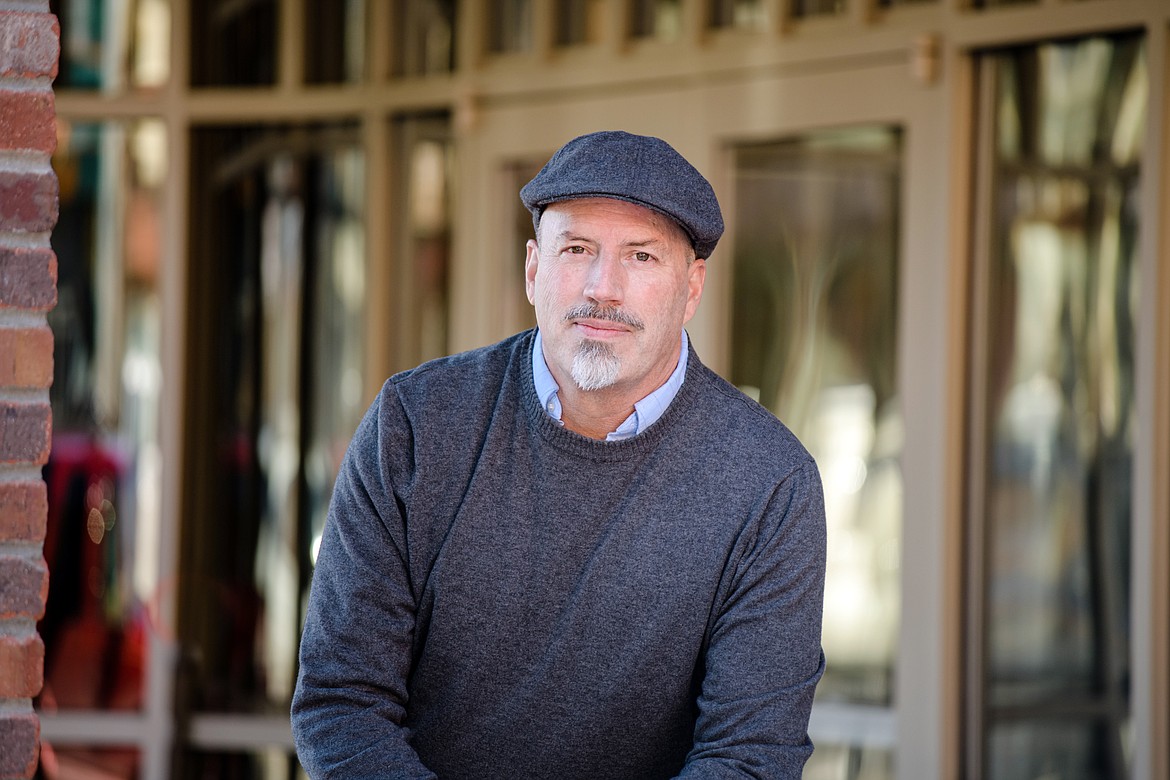 Fellow Bigforkers who are trail running or tennis enthusiasts may be accustomed to seeing Mark Leichliter (aka Mark Hummel) laboring up a hilly single-track or chasing balls on the Bigfork High School courts.
He can also be spotted before an open laptop with a cup of tea in hand while working "among the company of other humans" at Lake Baked or Fieldsheads Coffee Company.
Yet these remain chance sightings of the novelist, for he, like most writers, spends the vast majority of his time "alone in a room talking to the voices in my head" at his home in Bigfork.
Among other publishing, editing, and teaching pursuits, Leichliter writes crime novels, and is best known to locals for his 2021 book The Other Side, which is set largely in Lakeside and features Flathead Lake to such a prominent extent that it could practically be considered a character in the novel.
But more of his writing life is passed as Mark Hummel (his middle name and his mother's maiden name), writing literary and contemporary novels, short stories, and essays.
His newest novel, a literary comedy titled Man, Underground, debuts on October 17th .
The Montana writer and New York Times bestselling author best known for his novel Hotel on the Corner of Bitter and Sweet, Jamie Ford, captured the thrust of Hummel's new book succinctly in a recent review: "a dark, comedic parable of resilience and camaraderie between a reclusive man who finds solace in an unconventional home and an audacious teenager who inserts herself into his hidden world. An unlikely bond forms, unearthing laughter, comfort, and a captivating journey that defies societal norms. I was hooked from the first page."
Mark and his wife Patti have lived on Flathead Lake for ten years, first in Lakeside and now in Bigfork, moving to Montana from Jackson, Wyoming where Mark supplemented his writing life by teaching at an experiential-based independent high school.
A Wyoming native, he taught writing and literature for much of his career at the University of Northern Colorado. His affection for Montana and the Inter-Mountain West runs deep, and his understanding of Western people and places, and the unique challenges now facing them are a frequent undercurrent in his work.
His writing is character driven and seeks to explore the human condition although his deeper ideas are often softened by the camouflage of original and gripping plots, compelling relationships, laugh-out-loud comedy, and a sarcastic streak.
The notion of "dark comedy" is particularly appealing to the author, and he hopes that readers will be swept up in the absurd humor of Man, Underground.
Pre-publication reviews bolster his belief that laughter can deliver readers comfortably into the serious aspects of the book, themes that "anyone living in America at this moment will recognize as close to home, constantly present, and conspicuously unnerving."
Another Montana novelist, David Abrams, who has walked the line between absurdism and tragedy in his own war novels Brave Deeds and Fobbit, thinks Hummel gets the balance of humor and darkness right, writing in a review, "Man, Underground is witty, endearing, and full of surprises. I loved watching the transformation of our 'underground man.'"
Hummel will kick off a tour for the new book with a book launch on October 19th starting at 5:30 p.m. at the Bigfork Art and Cultural Center in downtown Bigfork.
In addition to a short reading, book signing, and a chance for those in attendance to ask questions, Mark will present a brief talk titled: One Tribe: Art's Role in Moving a Culture from "We/Them" to "Us".
The public is warmly invited to this event.
All of the author's books are available in print and as eBooks through all online retailers, although Mark encourages those who purchase books on-line to consider using bookshop.org, a full-service bookstore that donates a percentage of all profits back to independent booksellers while maintaining competitive prices.
Locally, his books are available at Lake Baked and at Mountain Vibes in Bigfork, at Glacier Perks in Lakeside, and will be for sale at the BACC launch party.
---