Vals advance to consolation final at Blocktober Classic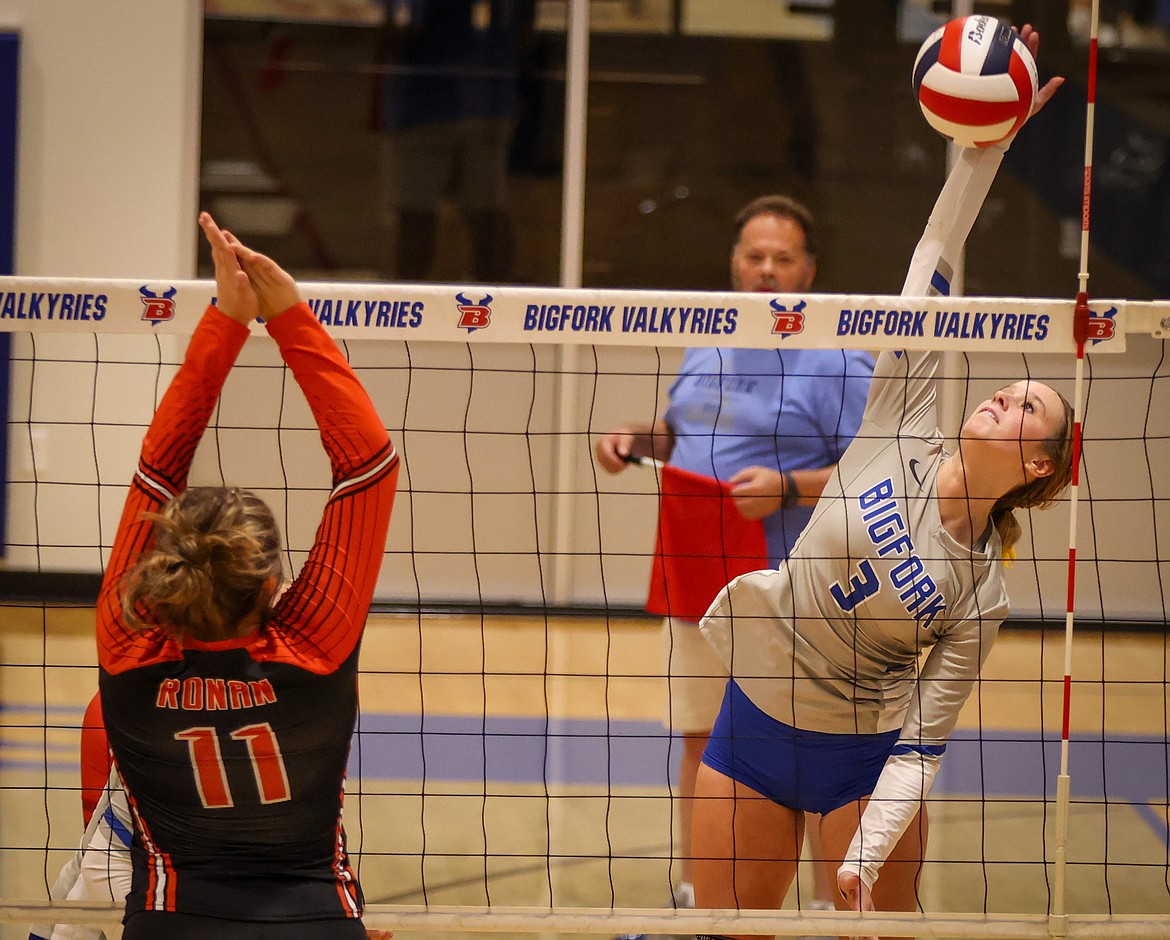 Ava Davey reaches high to make a kill earlier this season. (Jeremy Weber/Bigfork Eagle)
The Valkyries volleyball squad had a 6-5 showing at the Blocktober Classic in Butte over the weekend and reached the consolation final, where they fell to Lockwood.
Bigfork got double-digit kills from five different players during pool play Friday as the Valkyries went 4-4, including 22 by Gracie Saari, 19 from Ava Davey, 16 from Natalie Vick, 14 from Piper Lee and 13 by Emily Wisman.
Davey added 30 digs on defense, Taylor Howelett added 29 and Saari had 21, Lee recorded four blocks and Howlett added 73 assists during Friday action.
Bigfork opened pool play Friday with a 30-28 win over Miles City before falling to Dillon, 28-30.
The Vals bounced back with a 30-18 win over Ronan before taking down Stevensville 30-16.
Bigfork dropped its next two to Anacona and Hardin, 26-30 and 18-30 before splitting the final two matches of the day against Park and Havre, 30-25 and 12-30.
In tournament play on Saturday, the Vals got 8 kills from Davey and 18 digs by Tessa Troyer to survive a tough test from Fergus toopen the day, 25-23, 14-25, 15-10.
Howlett recorded 15 assists and six digs in Bigfork's next match as the Vals blew past Stevensville for the second time at the tourney, 25-19, 25-13.
Bigfork took the opening set from Lockwood in their matchup in the consolation final, but Lockwood rallied to take the final two sets and fourth place, 24-26, 25-13, 15-9.
Davey finished with 8 kills in the loss while Howlett had 15 assists and Vick had four blocks.
The Vals return to Northwest A action Thursday as they travel to Libby to face the Lady Loggers before hosting Browning Saturday at 4 p.m.
---