Vals topple top seed Laurel, 3-2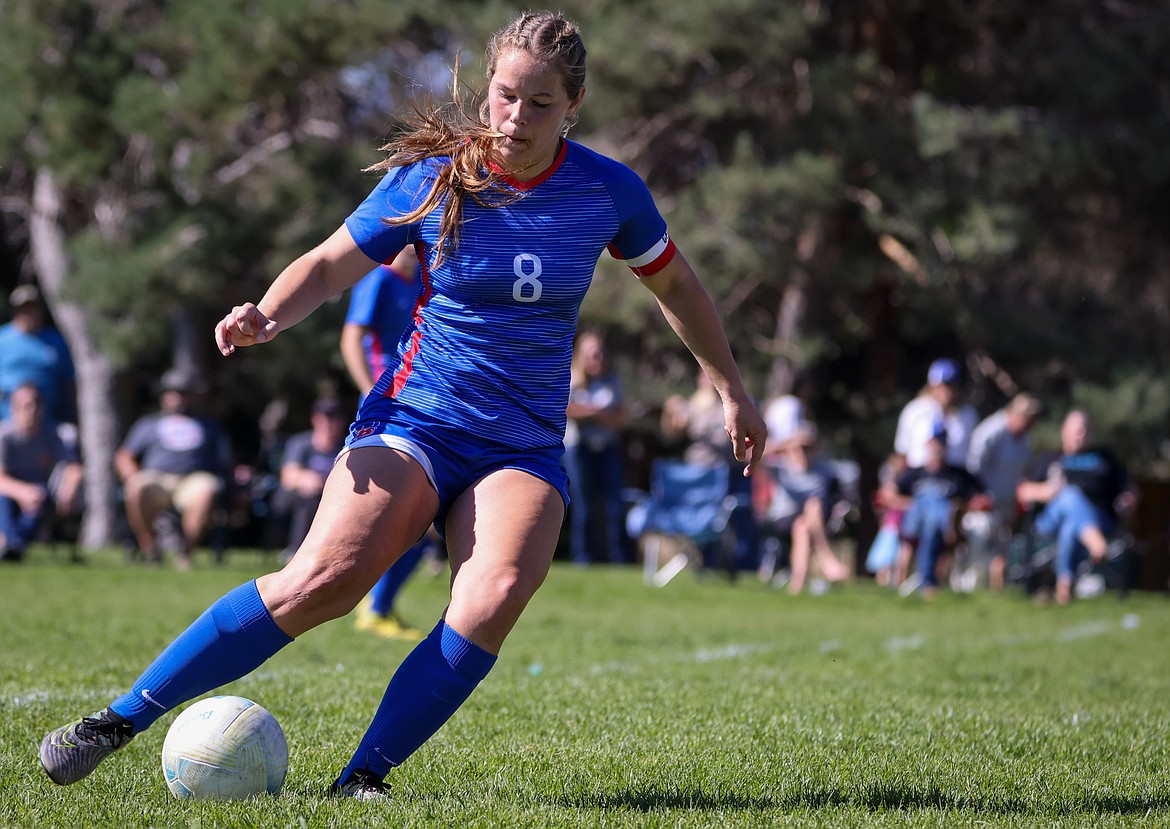 Danika Bucklin moves the ball during action earlier this season. (Jeremy Weber/Bigfork Eagle)
The Valkyries 3-2 win over top-seeded Laurel in the State A soccer quarterfinals Saturday may have been an upset on paper, but don't tell that to Bigfork head coach Park Schara.
"I was not shocked at all. Getting this win was the expected result, at least in my opinion. We didn't drive seven and a half hours expecting to lose," he said "The girls have been looking to get that win for a few years now. They wanted to go to Laurel and get out of there with a victory and that's what they did."
A team that has won five state titles since 2014 and which ended the season for the Vals in 2020 and 2021, the Locomotives came into Saturday's playoff undefeated this season.
Despite the apparent mismatch, it was Bigfork that grabbed a 2-0 lead less than 20 minutes into Saturday's playoff behind a goal from Paeten Gunlock and another by Danika Bucklin, who buried a penalty kick.
Laurel cut the lead to 2-1 before the half, but Brynn Bagley gave Bigfork some cushion with a goal with less than 20 minutes on the clock.
Laurel was able to once again cut the lead to one, but Bigfork held on for the 3-2 victory behind a number of late-game saves by keeper Irelynd Vigil.
"We were fully confident from the day we pulled this matchup that we were going to go over there and beat them. That being said, they are a good team that is coached well and have some tough kids," Schara said about the victory. "I think my team could compete with anyone in the world at any sport, if they put their mind to it. That's how competitive this squad is. They just happen to play soccer. I think we have one of the best goal keepers in the state and she did her job well, our midfield is extremely solid and our forwards are hungry. That is a recipe that is hard to compete with."
A trip to the State A title game will be on the line Saturday as the Valkyries travel to Columbia Falls to take on the Wildkats, who have tied the Vals 4-4 and 2-2 in other meetings this fall.
"We are looking forward to the challenge. I feel that Columbia Falls is one of the best teams in the state and I don't think they have seen our best game yet this year," Schara said. "This one is going to be one for the ages, I have a feeling"
---