Vikings still playoff bound despite loss to C-Falls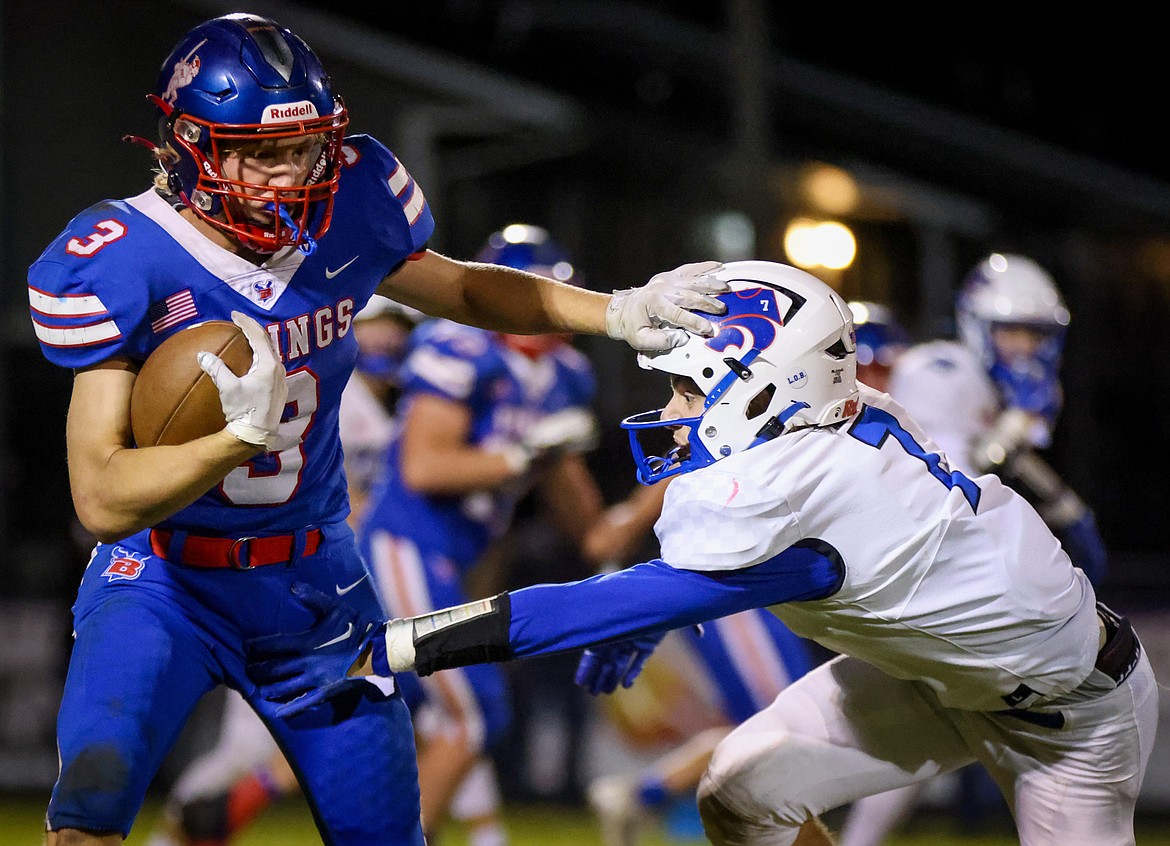 Wyatt Johnson fights for yards against Columbia Falls Friday.
The Vikings will be in the 2023 State A playoffs despite their 51-30 loss to Columbia Falls Friday, they are just not sure who their opponent will be quite yet.
A number of tiebreakers will come into play to determine the playoff matchups as Bigfork will use their bye week to sit back and see how the end of the regular season unfolds.
Bigfork currently sits in a four-way tie in the Western A standings along with Polson, Frenchtown and Whitefish.
The most likely playoff scenario for the Vikings is a matchup against Hamilton, but that is only if the 5-2 Broncs can get past 4-3 Polson Friday.
The game could be a struggle for Hamilton, which is down its starting quarterback and a key offensive lineman.
The Vikings had their troubles against Columbia Falls Friday as the Wildcats blew open a 17-14 halftime lead to down Bigfork 51-30 in Bigfork's regular season finale.
Bigfork finished the night with 347 yards of total offense, but 313 of that came through the air as the Columbia Falls defense shut down the Vikings' ground attack.
The Bigfork defense twice held the Wildcats back to force turnovers on downs following first-and-goal situations in the first half.
The Vikings had an opportunity to take the lead late in the second quarter before an interception led to a Columbia Falls field goal.
The Wildcats pulled away for good with a 21-point third quarter as the Vikings could not keep pace.
Quarterback Tristen Herd finished 17 for 31 passing for 313 yards and three touchdowns, but was also picked off twice.
Sam Plummer and Herd both had seven rushing yards to lead the stifled Bigfork ground attack while Eli Thorness caught six passes for 168 yards and two TDs to lead the Bigfork receiving corps. Austin Savik caught four passes for 85 yards and a touchdown in the loss.
Bigfork defensive stats had not been compiled at press time.
Columbia Falls was led by Cody Schweikert's 549 yards of total offense, including 377 through the air and 172 on the ground.
---