Martel making the best of his return home to Bigfork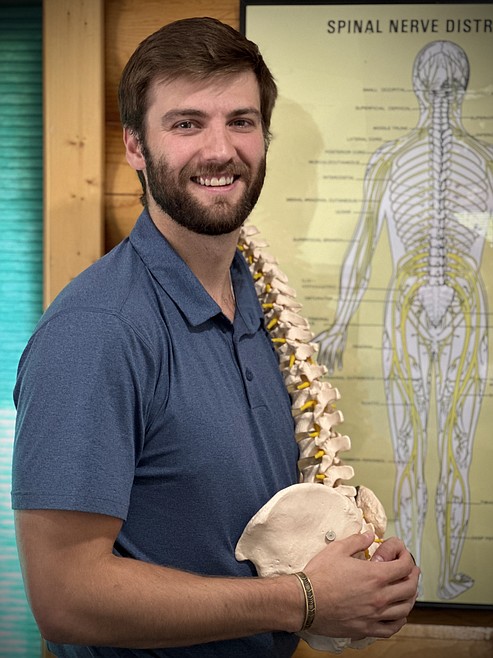 by
JEREMY WEBER
For the Eagle
|
September 13, 2023 12:35 PM
When he graduated from Bigfork High school in 2015, Isaac Martel knew he wanted to one day find his way back home.
Now, as the owner of Bigfork Family Chiropractic and as an assistant coach with the Valkyries basketball team, Martel is living his dream.
A multi-sport athlete with the Vikings, Martel went on to play college basketball with the Battlin' Bears of Rocky mountain College in Billings, where he earned his Bachelor's Degree in Health and Human Performance.
After another three years without a break at Northwestern Health Sciences University in Minnesota learning the ins and outs of chiropractic medicine, Martel made his way back home in 2022. Once he completed a stint as an intern Dr. Greg Pisk in Kalispell, Martel made the decision to hang his shingle in his hometown and opened Bigfork Family Chiropractic in June.
"I want to help young athletes and I want to be here in Bigfork, so this is the best option for me," Martel said. "This town meant a lot to me growing up and I am proud to be able to give something back to it."
Giving back is exactly what Martel has been doing since his return home as he helped lead the Valkyries to their first-ever basketball state title as an assistant coach last season.
"I figured that I might be coaching someday. I loved playing, but I always felt that my biggest strength on the court was my understanding of the game. That really translates well into becoming a coach. I'm an Xs and Os kind of guy," Martel explained. "I loved living here and growing up here as well as playing sports here. That's why I couldn't wait to get back into the sports scene here. I reached out to Cortnee (Valkyries head coach Cortnee Gunlock) to see if she needed help and she brought me onto her coaching staff."
Martel admits that his timing for coming on as an assistant coach with the Vals could not have been better.
"I've gotten to be a part of a lot of sports history here in Bigfork. I played for the first boys state championship basketball team and helped coach the girls on their way to their first basketball state title," he laughed. "It doesn't get much better than that."
For Martel, the opportunity to use his expertise both from the court and the adjusting table, is a chance to carry on the lessons he learned from his own youth baseball coach early in life.
"I was able to see the way he helped us with our overall performance as well as coming back from injuries quicker. He helped my dad with his low back trouble, which had been keeping him from doing the things he wanted to do," he said. "The way he was able to help all of us just enjoy life, I wanted to do that for others."
With his new venture, Martel is hoping to do just that.
"It's been great so far, Martel said. "I am just trying to grow as best I can and I am excited to be back home."
---